Union News | Latest News l Upcoming Member Meetings
Find Your Union Steward and Staff Representative | Resources & Links
Union News
Bargaining Preparation Updates
Your bargaining team has been meeting regularly and working hard to review the bargaining surveys that have been submitted. Based on their initial review, the top issues that members care about are competitive pay and benefits, work/life balance, a voice on the job, a clean and safe campus, training opportunities, and job security.
Bargaining surveys are available for UIC members to fill out! It takes members working together to win a fair contract. This is YOUR union! Everyone's help and input is valuable and needed. This survey is just one step. The bargaining committees will need to know how you would improve wages and working conditions, and what you are willing to do to help get there. Please submit your online survey as soon as possible. There are also paper surveys available for employees to fill out, to receive those please contact your field organizer or steward to arrange time to drop them off.
Purple Wednesdays are back!
Starting this Wednesday, your union will be sending biweekly Purple Wednesday emails with updates on bargaining, campaigns, and other important information.
To show UIC that we are standing united, it's time to relaunch #PurpleWednesdays! Participation is easy, just wear your Local 73 purple swag – buttons, winter hats, or hoodies – or any purple on Wednesdays. Join your coworkers by purpling up next Wednesday!
---
Upcoming Member Meetings
For anyone who missed the contract meetings held in September, you can find highlights from the presentation and discussion attached at one of these links: 9/20 Clerical Meeting, 9/22 Pro Meeting, 9/26 Tech Meeting, 9/28 Serv Meeting. We will hold contract-specific membership meetings over the upcoming year and its important that you make an attempt to attend future meetings so that you and your coworkers always know what's going on.
To set up a department meeting in your area to discuss the bargaining surveys, upcoming contract negotiations, or any other issue impacting you and your coworkers, please reach out directly to your Union Representative for assistance"
---
Find Your Union Steward and Staff Representative
Staff at the local are assigned to work with specified buildings, departments and colleges of the university. These assignments may change from time to time. Please see the list below for an updated breakdown of which staff are assigned to which areas and their contact information. If you do not see your area listed below, reach out to Melinda Bunnage, Deputy Director of Higher Education, at mbunnage@seiu73.org.
Cheriell Jackson (CJ), cjackson@seiu73.org
UI Health

Outpatient Care Center
Ear & Eye Infirmary
Rehab Services dept
Labs & Pathology dept
Medical Call Center dept
Patient Access, Patient Accounting & Patient Logistics depts
Ambulatory Care

Chicago's West campus

Neuropsychiatric Institute
College of Medicine Buildings
Clinical Science Buildings
Medical Sciences Building
Marshfield Ave Building
West Research Office Building

Chicago's East Campus

715-722 & 704 Maxwell
Family Medicine Center & Departments
Felix Ortiz, fortiz@seiu73.org
Division of Specialized Care for Children
UIC School of Law
Miles Square Clinics
Chicago West Campus

Hospital Building Service Workers
Biologic Resources Laboratory
College of Dentistry
College of Pharmacy
Miles Square Clinic Main 
Campus Building Service Workers and House Attendants

Chicago East Campus

Building Service Workers and House Attendants
Abby Schultz, aschultz@seiu73.org
UI Health

UIC Hospital
Specialty Care Building
Dialysis dept
Continuum of Care dept
Clinical Nutrition dept
Info Tech Services dept 
Radiology
Andrew Yale, ayale@seiu73.org
College of Medicine Peoria
College of Medicine Rockford & LP Johnson
Chicago Campus

All East Campus Colleges & Programs (Science & Engineering, Chemistry, Liberal Arts & Sciences, Education, etc.)
Technology Solutions
Campus Housing
Campus Facilities (Parking, Telecommunicators, Mail, Procurement 
Healthy Cities Collaborative
Student Center East & West
Daley Library & Library of the Health Sciences
Student Services Building (East)
Disability, Health, and Social Policy Building (East)
Human Resources Building (West)
School of Public Health (West)
Applied Health Sciences Building (West)
Administrative Office Building (West) 
Look here for a complete list of UIC stewards. Every department should have a steward. If you don't have a steward in your area, nominate yourself or someone else here!
Last Updated 3/23/23
Contract Fight Forms
Bargaining Survey (Printable)
Bargaining Committee Form (Spanish)
Purple Wednesdays
Be sure to wear your SEIU swag or purple every Wednesday as we continue to call on UIC to honor the contract! #KeepYourWordUIC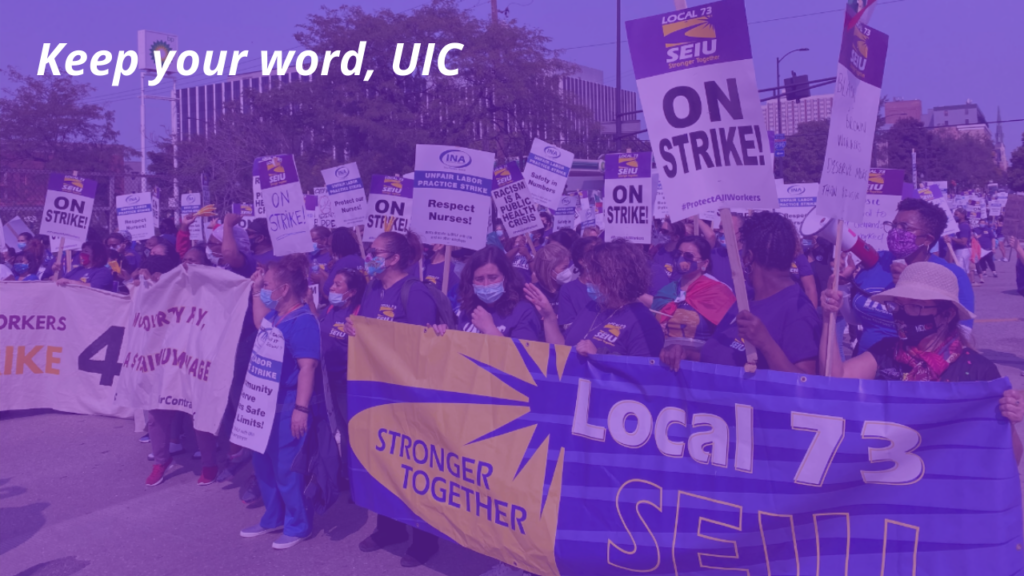 ---
---
Latest News
Purple Wednesday Newsletter – March 23
Purple Wednesday Newsletter – March 07
Purple Wednesday Newsletter- February 22
Announcing Pay Raises for BSWs and Housing Attendants/ Anunciando de aumentos salariales para BSWs y Asistentes de Vivienda
Joint Statement on UIC BSW Raises
December BSW Labor Management Meeting Update
Unions stand united at the Board of Trustees, despite admin attempts to silence workers
Bargaining Team Nominations Extended to Dec 2!
UIC Updates and Upcoming Member Meet-ups Flyer
BSW Shift Change Advisory Vote Update
BSW Shift Change – Negotiations Update
UIC Upcoming Mtgs & Year 4 Increases
DSCC Clerical Staff Win 5% Market Increase!
May Update – Purple Wed, Townhall Mtgs
Fighting for Job Security in UICOM Peoria
SEIU 73 Stands with the GEO Strike!
Join us for Technical Vacation Payout Info Session Today!
Update on Technical Vacation Payout
---
Resources & Links
General Information
Worksite Issue Report Forms
Union Contracts & Relevant Policies/Resources
Steward Information