Union News | Latest News l Upcoming Member Meetings
Find Your Union Steward and Staff Representative | Resources & Links
Union News
Update on Year 4 Increases
Earlier this month, employees received an email from the University of Illinois system stating that President Killeen announced a 3.5% "merit-based salary program" for the 2022-2023 academic year, subject to the negotiated agreements between the unions. This email serves to communicate the wage program for the entire University of Illinois system. If UIC adopts this same percentage as their campus wage, as they have done in years prior, then all employees will receive a 3.5% increase on the anniversary of their contract instead of the 1.5% originally negotiated for Year 4 of the agreements.
This raise would be effective the first pay period after the anniversary of each of the contracts. We will send out another email once the UIC campus wage has been adopted to confirm the contract anniversary increase and effective date for all employees represented by each of the four contracts.
---
Upcoming Member Meetings
As we begin to prepare for the next round of negotiations for the four UIC contracts that expire in 2023, we are inviting members to join us for preliminary discussions about the goals for each contract. These meetings will be a space open for all members to discuss issues, concerns, and priorities specific to your respective contract. Please RSVP for one of the meetings below. Also, we encourage you to send questions ahead of time to mbunnage@seiu73.org.
---
Find Your Union Steward and Staff Representative
Staff at the local are assigned to work with specified buildings, departments and colleges of the university. These assignments may change from time to time. Please see the list below for an updated breakdown of which staff are assigned to which areas and their contact information. If you do not see your area listed below, reach out to Melinda Bunnage, Deputy Director of Higher Education, at mbunnage@seiu73.org.
Jeanene Johnson, Jeanene.Johnson@seiu73.org
UI Health Hospital & Clinics (see departmental exceptions below)
Miles Square Clinics
College of Pharmacy
College of Medicine
Building Service Workers – Hospital
Ryan Miller, rmiller@seiu73.org
UI Health Labs & Pathology department
UI Health Rehab Services department
UI Health Clinical Nutrition department
Ear Eye Infirmary
Outpatient Care Center
College of Dentistry
Division of Specialized Care for Children
John Marshall Law
Andrew Yale, ayale@seiu73.org
UI Health Continuum of Care (social workers, etc) department
UI Health Radiology department
Building Service Workers – Campus
Facilities
East Campus Colleges/Buildings
Peoria College of Medicine
Rockford College of Medicine & LP Johnson
Look here for a complete list of UIC stewards. Every department should have a steward. If you don't have a steward in your area, nominate yourself or someone else here!
Last Updated 6/17/22
Purple Wednesdays
Be sure to wear your SEIU swag or purple every Wednesday as we continue to call on UIC to honor the contract! #KeepYourWordUIC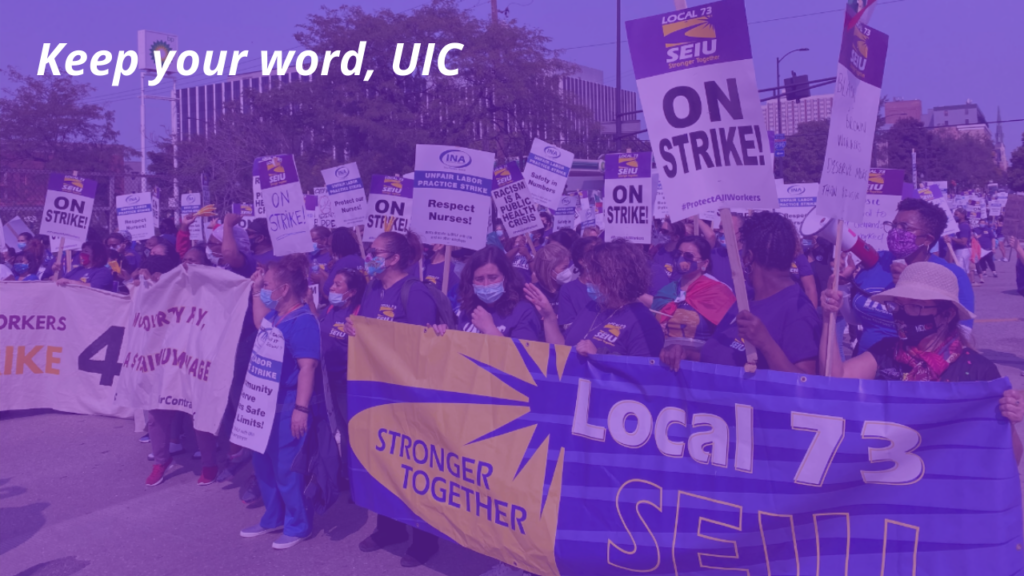 ---
---
Latest News
UIC Upcoming Mtgs & Year 4 Increases
DSCC Clerical Staff Win 5% Market Increase!
May Update – Purple Wed, Townhall Mtgs
Fighting for Job Security in UICOM Peoria
SEIU 73 Stands with the GEO Strike!
Join us for Technical Vacation Payout Info Session Today!
Update on Technical Vacation Payout
Register to attend a UIC 73 fall membership meeting!
Bilingual Certification Update
Celebrating the Anniversary of Our Strike, Contract Booklets Now Available!
Vaccination Town Hall Reminder, Year 3 Raises & Certification Bonuses
Update on Mandatory Vaccinations & COVID-19 Safety
Report Back from First House Wide Labor Management Meeting
Report from Bargaining About Mandated Vaccines
Political Power Wins 2% Campus Wage for UIC Employees
---
Resources & Links
General Information
Worksite Issue Report Forms
Union Contracts & Relevant Policies/Resources
Steward Information