Union News | Latest News l Upcoming Member Meetings
Find Your Union Steward and Staff Representative | Resources & Links
Union News
Join us in celebrating the one-year anniversary of our historic strike! For ten days, thousands of SEIU 73 workers from hundreds of job titles and departments came together on the picket line fighting for UIC to protect, respect and pay us.
On September 23rd, the final day of the strike, 73 members shut down the construction site across from the hospital. That afternoon, the contracts were settled, and the strike was called off! Workers won significant across the board raises, annual market analysis of their titles, increases to hourly differentials, and established bilingual certification bonuses for the first time ever.
"We stood in solidarity, demanded respect, and brought national attention to our issues. Most importantly we learned that when we fight, we win. Solidarity!" –Member Vice President and Chief Steward Lavitta "Vee" Steward.
This week, we are celebrating our solidarity and our unity by rolling out new tools and resources for UIC union members that never before existed so that all members can have the information and knowledge to enforce your contract and keep UIC accountable to their word.
Contract Distribution & Fight Back Trainings! This week we will distribute contracts and hold short in-person training sessions that will cover employee rights in the workplace, rights under the union contract, and the tools that you and your co-workers can use to enforce those rights. See "Upcoming Member Meetings" for details.

Meet your stewards Fall 2021. If you don't know who your steward is, check out this flyer with photos and names of UIC stewards across the hospital and campus.

Guide to Enforcing Your Contract Fall 2021. Having the contract is one thing, but knowing how to enforce it is something else! We will be distributing these guides to members so that you and your coworkers have all the tools you need to stand up and fight back.

Check out the revamped website, with a detailed list of links and resources.

Sign up to be a steward or nominate a coworker. Stewards lead the union in the workplace and serve as members' first line of defense.

Sign up for COPE. Contributing to the Committee on Political Education is how we build power politically to win a seat at the table and support the fight for improvements in our workplaces and communities. If you aren't giving to COPE, give today!
---
Upcoming Member Meetings
Fight Back Trainings: Enforcing your contract in the workplace
Training sessions will take place at a union table on the hour, but you are welcome to come out and get your contract at any time. So far we have tables scheduled the following dates and times.
Thursday, Sept. 23, 8 a.m. – 4 p.m. at Wood & Taylor St directly across from the OCC
Tuesday, Sept. 28, 8 a.m. – 4 p.m. at Wood & Taylor St directly across from the OCC.
Wednesday, Sept. 29, 8 a.m. – 4 p.m. at Wood & Taylor St directly across from the OCC.
Additional virtual and in-person training sessions can be scheduled by department or work area. Reach out to your steward or union staff representative to schedule a training and a time to distribute the contracts for your area.
Fall 2021 Membership Meetings
We are committed to transparency and open communication so that every union member has the opportunity to contribute to discussions and decisions about the direction of our union. Our goal is to hold mass membership meetings every Fall and every Spring. Please save the date and RSVP now for one of the two Fall membership meetings.
---
Find Your Union Steward and Staff Representative
Staff at the local are assigned to work with specified buildings, departments and colleges of the university. These assignments may change from time to time. Please see the list below for an updated breakdown of which staff are assigned to which areas and their contact information. If you do not see your area listed below, reach out to Melinda Bunnage, Deputy Director of Higher Education, at mbunnage@seiu73.org.
Jeanene Johnson, Jeanene.Johnson@seiu73.org
Hospital
Miles Square Clinics
College of Pharmacy
Ryan Miller, rmiller@seiu73.org
Ear Eye Infirmary
Outpatient Care Center
College of Dentistry
Clinical Science Building
Division of Specialized Care for Children
John Marshall Law
College of Medicine
Andrew Yale, ayale@seiu73.org
Building Service Workers
Facilities
Peoria
Rockford
East Campus Colleges/Buildings
Cathleen Jensen, cjensen@seiu73.org Grievance Support
Look here for a complete list of UIC stewards. Every department should have a steward. If you don't have a steward in your area, nominate yourself or someone else here!
Last Updated 10/22/21
Purple Wednesdays
Be sure to wear your SEIU swag or purple every Wednesday as we continue to call on UIC to honor the contract! #KeepYourWordUIC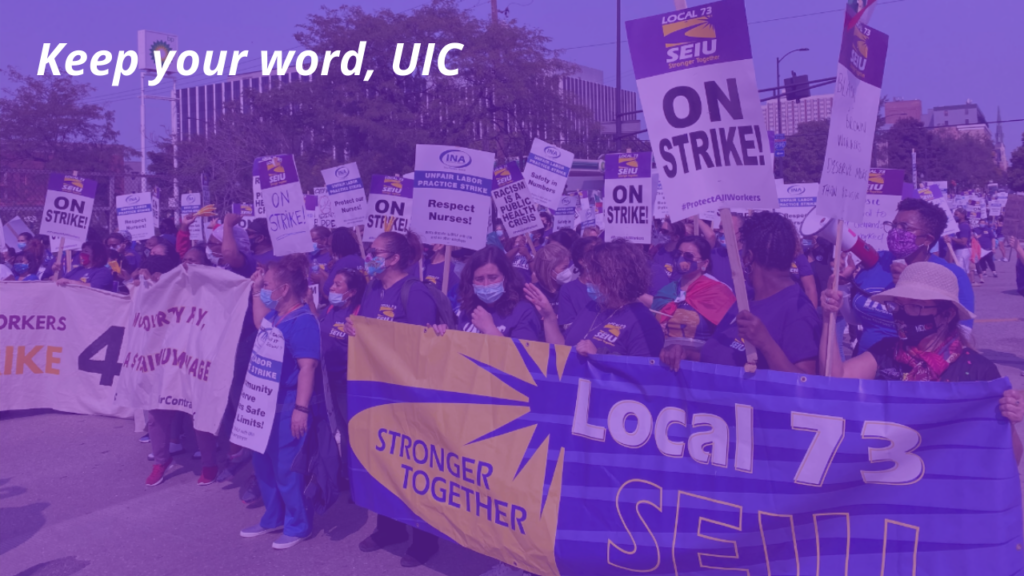 ---
---
Latest News
Register to attend a UIC 73 fall membership meeting!
Bilingual Certification Update
Celebrating the Anniversary of Our Strike, Contract Booklets Now Available!
Vaccination Town Hall Reminder, Year 3 Raises & Certification Bonuses
Update on Mandatory Vaccinations & COVID-19 Safety
Report Back from First House Wide Labor Management Meeting
Report from Bargaining About Mandated Vaccines
Political Power Wins 2% Campus Wage for UIC Employees
---
Resources & Links
General Information
Worksite Issue Report Forms
Union Contracts & Relevant Policies/Resources
Steward Information