Union News | Latest News l Upcoming Member Meetings
Find Your Union Steward and Staff Representative | Resources & Links
Union News
As of Monday, January 10, 2022,  your union completed negotiations with UI Health over the new internal disaster differential program for any employee taking part in direct clinical care or public facing work at a UI Health clinic or facility. We broadened the definition of employees who should be eligible, negotiated to include non-UI Health employees assigned to UI Health clinics, and significantly increased the compensation for each differential. Refer to the resource guide here for more information about the disaster differential. You can also refer to UI Health's communication in December here.
"Respect Us. Protect Us. Pay Us." It's been more than a year since our historic strike and our demands haven't changed. As COVID numbers continue to spike at UIC, the University has placed the blame for this on its own employees, citing holiday parties and community transmission.  Yet in many places, UIC has failed to provide social distancing, refused work from home, and failed to do proper temperature and Covid-19 screenings. It's important for employees to know what to do to protect ourselves, our coworkers, and our families. It's time that we work together and make sure our voices are heard.
If you have a concern about the disaster pay or a safety issue in your department, you need to do three things:
1) Educate –  Familiarize yourself with policies & practices. Use the resources linked in this resource guide to get started.
2) Document – Write everything down.
3) Advocate – Take steps with your coworkers to fight back against unsafe and unfair practices in your department. Here are some tips to get you started:
Make demands in writing. Send emails and letters to your leadership team about your concerns.
Be proactive! Don't wait to reach out to your manager about a problem.
Consider the 3 Ws. What is the problem? Why does it matter? What should be done about it?
Be specific. Broad and general statements are not as powerful as detailed reasoning and personal testimony.
Work together. Encourage your coworkers to sign onto emails before you send. This helps show strength, unity and coordination, which makes all the difference in a worksite issue fight.

Right now it is crucial that we all advocate for our own safety.
---
A partir del lunes, 10 de enero de 2022,  su sindicato completó las negociaciones con UI Health sobre el nuevo programa interno de diferencial por desastre  para cualquier empleado que participe en atención clínica directa o trabajo de cara al público en una clínica o centro de UI Health. Ampliamos la definición de empleados que deberían ser elegibles, negociamos para incluir a los empleados que no son de UI Health asignados a las clínicas de UI Health y aumentamos significativamente la compensación para cada diferencial. Consulte la guía de recursos aquí para obtener más información sobre el diferencial por desastre. También puede consultar la comunicación de UI Health de diciembre aquí.
"Respétanos. Protegernos. Páguenos". Ha pasado más de un año desde nuestro histórico paro y nuestras demandas no han cambiado. A medida que los números de COVID continúan aumentando en UIC, la Universidad ha culpado de esto a sus propios empleados, citando fiestas navideñas y transmisión comunitaria. Sin embargo, en muchos lugares, UIC no ha proporcionado distanciamiento social, se ha negado a trabajar desde casa y no ha realizado los controles de temperatura y de covid-19 adecuados. Es importante que los empleados sepan qué hacer para protegernos a nosotros mismos, a nuestros compañeros de trabajo, y a nuestras familias. Es hora de que trabajemos juntos y nos aseguremos de que se escuchen nuestras voces.
Si tiene alguna inquietud sobre el pago por desastre o un problema de seguridad en su departamento, debe hacer tres cosas:
1) Educar –  Familiarizarse con las políticas y prácticas. Utilice los recursos vinculados en esta guía de recursos para comenzar.
2) Documento – Escriba todo.
3) Defensor: tome medidas con sus compañeros de trabajo para luchar contra las prácticas inseguras e injustas en su departamento. Aqui hay unas ideas para que puedas comenzar:
Hacer demandas por escrito. Envíe correos electrónicos y cartas a su equipo de liderazgo sobre sus inquietudes.
¡Ser proactivo! No espere para comunicarse con su gerente acerca de un problema.
Considere las 3 W. ¿Cuál es el problema? ¿Por qué eso importa? ¿Qué se debe hacer al respecto?
Se específico. Las declaraciones amplias y generales no son tan poderosas como el razonamiento detallado y el testimonio personal.
Trabajar juntos. Anime a sus compañeros de trabajo a firmar los correos electrónicos antes de enviarlos. Esto ayuda a mostrar fuerza, unidad y coordinación, lo que marca la diferencia en la lucha contra un problema en el lugar de trabajo.
En este momento es crucial que todos aboguemos por nuestra propia seguridad.
---
Upcoming Member Meetings
We have scheduled two emergency COVID response Town Hall meetings to discuss the COVID situation in different areas and educate about how to respond. Register for either meeting here: Thursday, January 20th at 6pm, and Saturday, January 22nd at 10am. 
Hemos programado dos reuniones públicas de respuesta de emergencia de COVID para discutir la situación de COVID en diferentes áreas y educar sobre cómo responder. Regístrese para cualquiera de las dos reuniones aquí: jueves, 20 de enero a las 6 p.m. y sábado, 22 de enero a las 10 a.m.
---
Find Your Union Steward and Staff Representative
Staff at the local are assigned to work with specified buildings, departments and colleges of the university. These assignments may change from time to time. Please see the list below for an updated breakdown of which staff are assigned to which areas and their contact information. If you do not see your area listed below, reach out to Melinda Bunnage, Deputy Director of Higher Education, at mbunnage@seiu73.org.
Jeanene Johnson, Jeanene.Johnson@seiu73.org
Hospital
Miles Square Clinics
College of Pharmacy
Ryan Miller, rmiller@seiu73.org
Ear Eye Infirmary
Outpatient Care Center
College of Dentistry
Clinical Science Building
Division of Specialized Care for Children
John Marshall Law
College of Medicine
Andrew Yale, ayale@seiu73.org
Building Service Workers
Facilities
Peoria
Rockford
East Campus Colleges/Buildings
Look here for a complete list of UIC stewards. Every department should have a steward. If you don't have a steward in your area, nominate yourself or someone else here!
Last Updated 1/14/22
Purple Wednesdays
Be sure to wear your SEIU swag or purple every Wednesday as we continue to call on UIC to honor the contract! #KeepYourWordUIC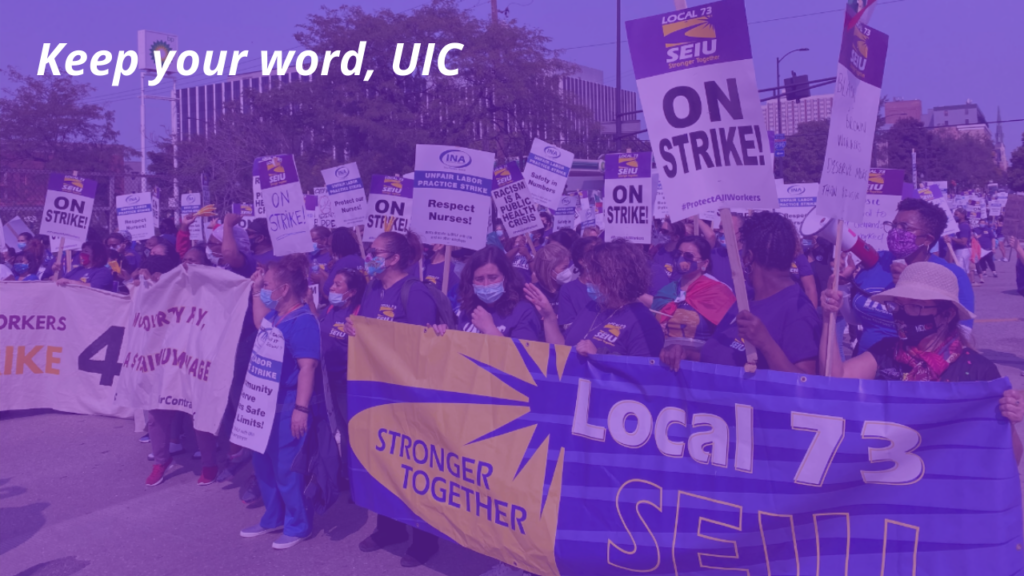 ---
---
Latest News
Join us for Technical Vacation Payout Info Session Today!
Update on Technical Vacation Payout
Register to attend a UIC 73 fall membership meeting!
Bilingual Certification Update
Celebrating the Anniversary of Our Strike, Contract Booklets Now Available!
Vaccination Town Hall Reminder, Year 3 Raises & Certification Bonuses
Update on Mandatory Vaccinations & COVID-19 Safety
Report Back from First House Wide Labor Management Meeting
Report from Bargaining About Mandated Vaccines
Political Power Wins 2% Campus Wage for UIC Employees
---
Resources & Links
General Information
Worksite Issue Report Forms
Union Contracts & Relevant Policies/Resources
Steward Information