Raises and Retro
UIC is applying the raises one job title at a time, and they decided the order.
Currently the Year 1 and Year 2 wage scales have been posted for the Technical, Cleric​al and Service contracts on the UIC Labor Agreements page. We advise all members to review these wage scales and compare to their paychecks to ensure that your raises are applied correctly. If you have a question, please reach out to the staff organizer assigned to your area at UIC (see below).
Technical Contract
Technical has their raises, but UIC extended their target date for the retro checks to be applied to March 3.
Clerical Contract
Clerical has their raises. UIC has provided a target date for retro for the clerical contract of March 31.
Service Contract
Service is on track to receive their raises by Feb. 17. If you do NOT see your raises contact your representative or mbunnage@seiu73.org. UIC has provided a target date for retro for the Service contract of April 28.
Professional Contract
Professionals are not receiving raises until the market studies have been completed. The key thing to remember is that the longer they take to implement your raise, the more they owe you in retro pay. Management stated that they are still working on the market studies for the pros outside of Chicago, but they now intend to have them completed this week. UIC says they intend to start the market studies for pros in Chicago next week, and they say they expect it will take 4 to 6 weeks for those to be completed. They have not provided a timeline for how long it will take for raises to be implemented after the studies are completed, but they did say that the retro will take about a month to distribute after the raises are applied. As stated last week, our timeline for our grievance on the late market studies expires Feb. 28, and members are prepared to move that grievance forward after that time to ensure that we take every step necessary to hold management accountable to their promises.
Shift Differentials
Please review the differentials for your contract and shift and confirm your hourly shift differential has been correctly applied. If your differential is incorrect, email mbunnage@seiu73.org.
All differentials applied for employees who are employed by UI Health should be correct. If you ARE NOT employed by UI Health then your hourly differential has NOT been applied yet. Clerical and Service staff who are employed by the campus side of the university (including Building Service Workers) HAVE NOT received correct differentials yet. Management informed us they are still updating their payroll systems to accommodate for the expanded differentials in the new contract. Their target date for getting these differentials corrected is Feb. 17. They have also assured us that every member will receive retro pay for the differentials going back to Dec. 1, 2020, the date our contracts were implemented.
Technical
All Technical hourly shift differentials are in effect. The evening, weekend, and night differentials for the Technical contract are $0.50 more than they were previously. Additionally, the Charge pay is $2.00 an hour and the Preceptor pay is $1.00 an hour. You can review the differentials by job title in appendix B of the contract
Clerical and Service
Clerical and Service staff who are employed by Campus Auxiliary Services and who are eligible for one or more shift differential will see them applied THIS Friday, Feb. 19. Also on Feb. 19, eligible staff will receive checks for the back pay on the shift differentials that they should have received going back to December 1, 2020.
Clerical and Service staff who are employed by Vice-Chancellor of Administrative Services and who are eligible for one or more shift differential and will see them applied on either the March 17 or March 31 paycheck. At that time, those staff will also receive back pay for the shift differentials that they should have received going back to Dec. 1, 2020.
Know Your Contract Trainings
We're leading virtual trainings to help members familiarize themselves further with the contract they fought for!
Dates and sign up links below:
Wednesday, February 17
12pm – 1pm: bit.ly/KYC2171
7pm – 8:30pm: bit.ly/KYC2172
Wednesday, February 24
12pm – 1pm: bit.ly/KYC2241
7pm – 8:30pm: bit.ly/KYC2242
Introducing Your Union Reps
Staff at the local are assigned to work with specified buildings, departments and colleges of the university. These assignments may change – but for now see the list below to know who the appropriate person to reach out to is for your area. If you do not see your area listed below, reach out to Melinda Bunnage at mbunnage@seiu73.org.
Melinda Bunnage Mbunnage@seiu73.org
Hospital
Miles Square Clinics
College of Pharmacy
Ryan Miller rmiller@seiu73.org
Ear Eye Infirmary
Outpatient Care Center
College of Dentistry
Clinical Science Building
Division of Specialized Care for Children
John Marshall Law
College of Medicine
Andrew Yale ayale@seiu73.org
Building Service Workers
Facilities
Peoria
Rockford
East Campus Colleges/Buildings
Purple Wednesdays
Be sure to wear your SEIU swag or purple every Wednesday as we continue to call on UIC to honor the contract! #KeepYourWordUIC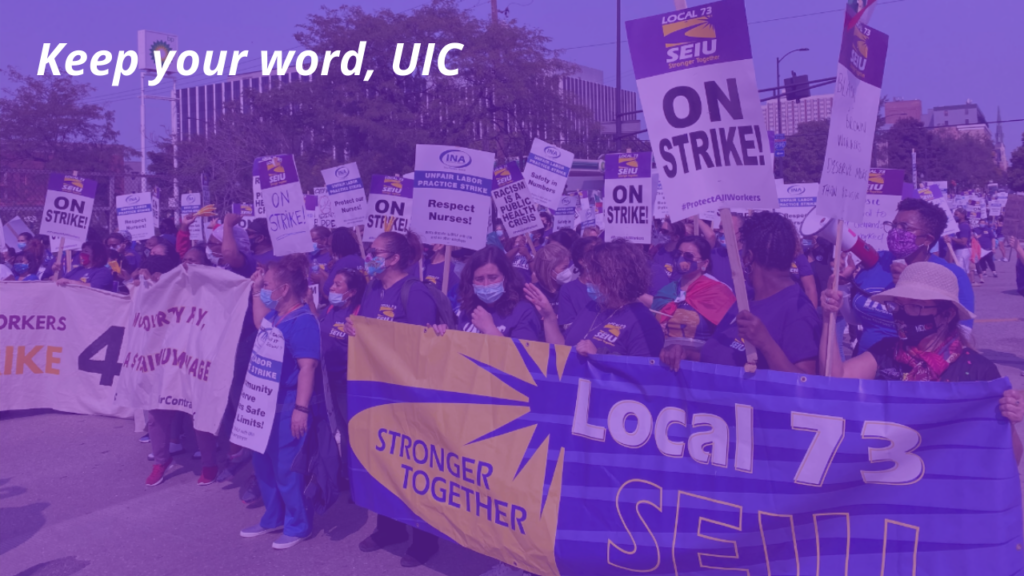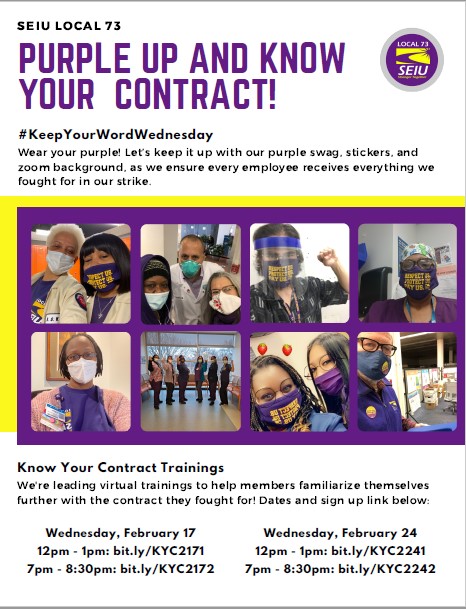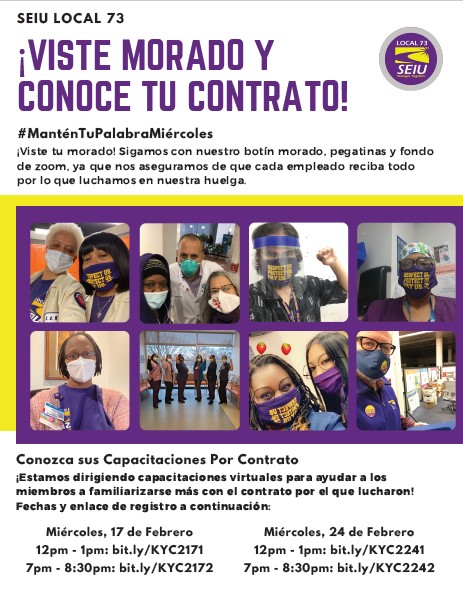 ---
Latest News
UIC Workers Bring Our Fight to the Board of Trustees
SEIU Local 73 Makes Formal Demand to Bargain Over Hazard Pay and COVID-19 with UIC
Striking SEIU Local 73 Members at UIC Are Victorious
UIC: We Are Going to #StrikeForOurLives
UIC Bringing Strikebreakers from States on Chicago's COVID Emergency Travel Order
After 94% Vote to Strike, UIC Workers Deliver Strike Notice to UIC
94% UIC Workers Vote to Strike!
SEIU Local 73 UIC Members Denounce UI Health's Lack of Commitment to #BLM
We Demand Immediate Safety Measures for UIC Workers in the time of COVID-19
UIC: Hazard Pay Now, Fair & Just Compensation Next
UIC: COVID-19 Pay Differentials Announced
UIC Members See Progress After Members Rally at Negotiations!
Cathleen Jensen: Fighting for What's Right at UIC