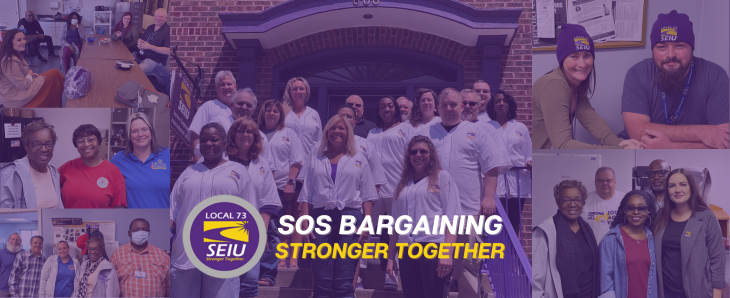 Union News
November 21, 2023 – Retro Update:
We want to clarify some misunderstandings and correct some information! The $1320 wage increase (prorated for intermittents) was added to your annual base, effective July 1, 2023. It showed up in your Nov. 11 paycheck. Since it was to be effective July 1, there were approximately seven pay periods that need the increase paid retroactively. That is retro.
Payroll was able to process approximately 85% of the employees' retro payments on the Nov. 22 paycheck. So, most of you received that. Then they were able to process another group of employees' retro payments to run on a supplemental and those should be received next week.
But there were another 100 or so employees who had some complicated transactions – TAPs, leaves, job movements, docks, etc. that required extra work. Those are being worked on right now and Payroll believes those will be completed and show up on the Dec. 11 paycheck.
To be clear, the $1,320 was never a one time bonus or payout. It will never be exhausted. It was added to your annual base which is what all your paychecks are based on. So, if you were making $40,000 on June 30, you are making $41,320 as of July 1. That annual amount is divided over your 24 paychecks. AND that annual amount will increase by 3% come January!
The wage calculator is still up on the website, so you can go and plug in your pay and see how each increase will affect your annual, monthly, and each paycheck!
Finally, for those of you who receive a differential (Shift, Bilingual, CDL, Training) those differentials went up to $100 a month and have been loaded into everyone's pay and are part of the retro calculation as well. Now payroll will get to start work on getting your January 1, 2024, 3% increases loaded and ready to come your way! We wish you a wonderful Thanksgiving!
November 7, 2023 – Wage Update:
Good news!! The increases you voted on and which were effective July 1 are on their way to your pockets!!
The increase to the base will show up in your checks Nov. 11, and the retroactive monies should be included with your Nov. 26 payroll checks!
Issues like dress code changes and using time in 15-minute increments went into effect once management was trained on Oct. 23. Vacation increases will be effective January 1.
October 5, 2023 – Ratification Update:
Union members, who were backed by SEIU Local 73, recently voted overwhelmingly in favor of an historic new contract with the Secretary of State. The union, which represents over 35,000 workers throughout Illinois and Northwest Indiana, and Secretary of State Alexi Giannoulias officially signed the contract, which lasts through June 30, 2027.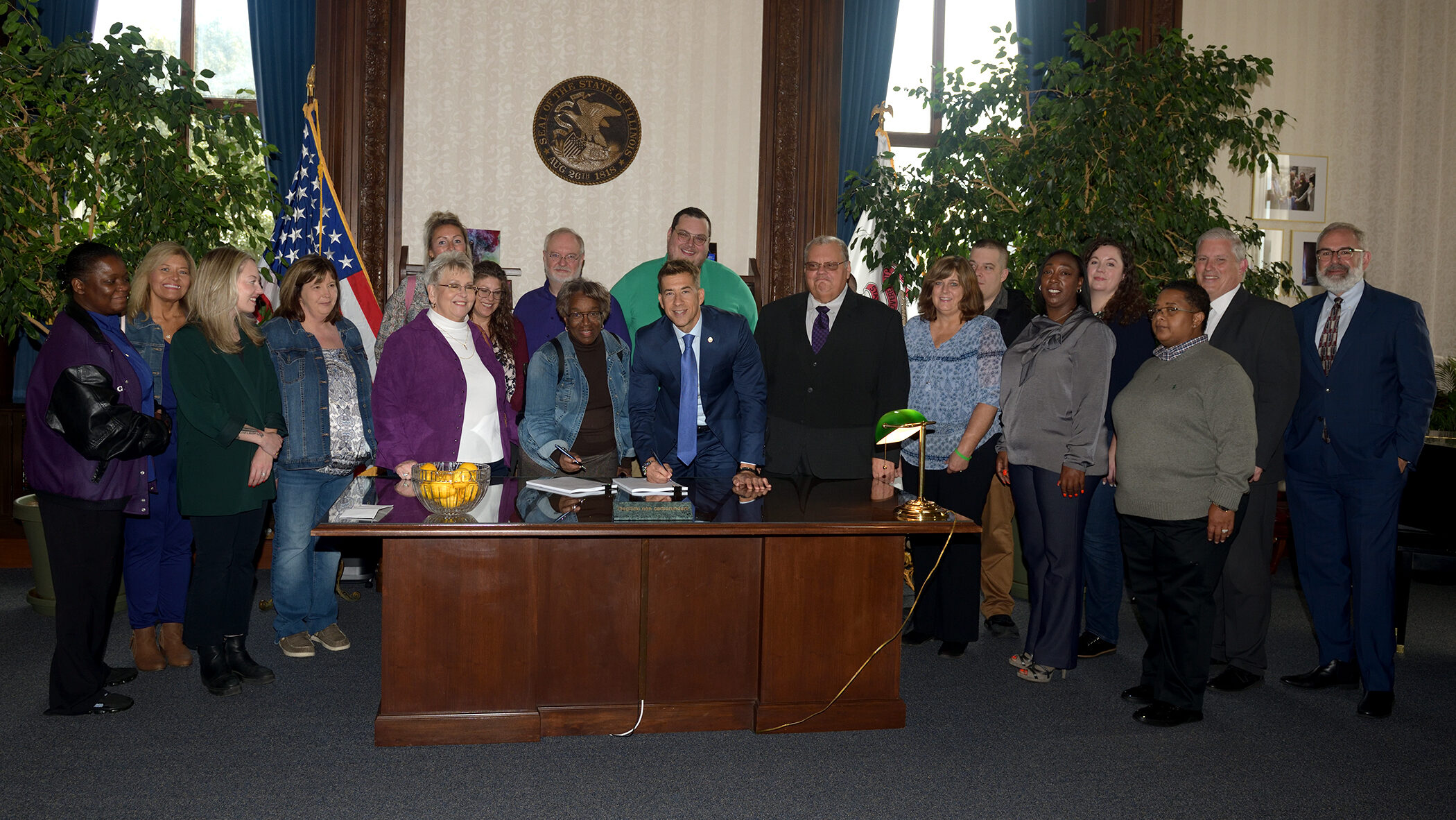 "I made a promise to serve as a Secretary of State who reflects our shared values, delivers on promises, and works to restore our faith and trust in government for working families across the state," Giannoulias said. "Getting this contract done between the office and SEIU in record time demonstrates my commitment to fight for fair wages and benefits. I will always stand up for the rights of our workers and empower them to succeed."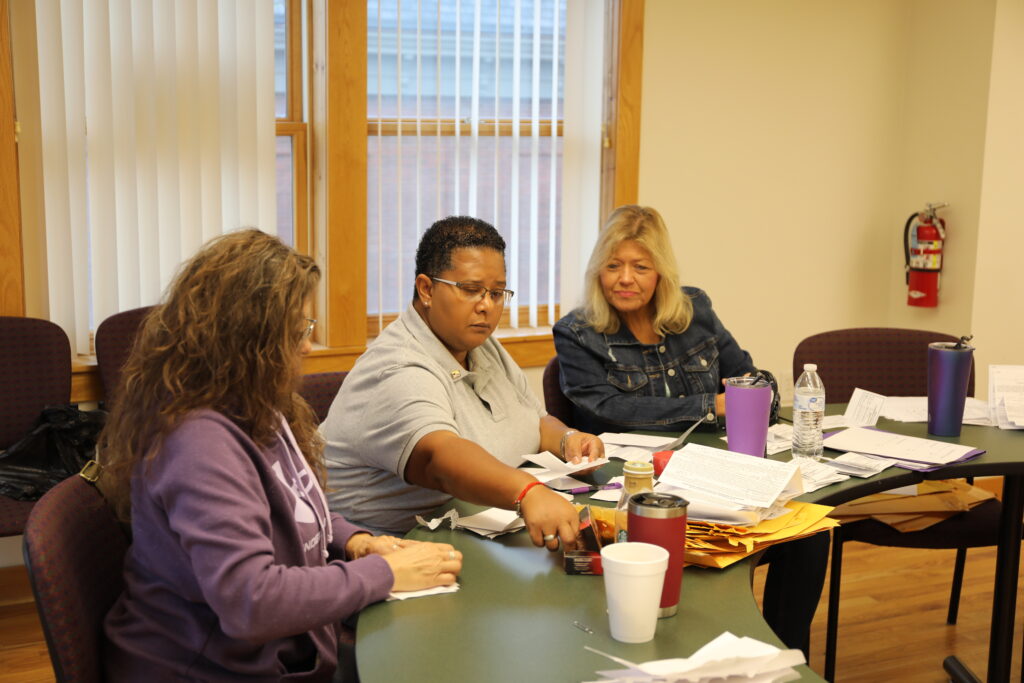 Workers believe the new contract reflects their dedication to the State and the services it provides. The new agreement features across-the-board wage increases, increased parental leave, inclement weather considerations, and more.
"This contract is the best, first step to getting our team fair wages," said Norine Cadle, Public Service Clerk at the Diversey Express Facility and Chief Steward. "There is always more work to be done, and our bargaining unit will do that. But this is the foundation on which we build our strength as a union."
SEIU Local 73 began the bargaining process in March 2023, after which the two sides came to agreement that they feel will benefit the not just workers, but the people of Illinois who rely on the critical services that the Secretary of State provides.
"We are tremendously proud of the work our union members do for the State, and their commitment is reflected in this historic contract," said Dian Palmer, President of SEIU Local 73. "We also value our relationship with the Secretary of State's office and Alexi Giannoulias, who has shown with this contract the respect Illinois has for union members."
August 23, 2023 – Ratification Update: Contract ratification will take place in person at SOS facilities from Monday, Sept. 5 through Monday, Oct. 2. SOS Bargaining Team Members and Local 73 staff will be on hand to answer questions about the contract and administer the vote. Click here for a complete list of dates and locations.
Contract Highlights:
Employees will now have the right to grieve their own evaluations through the third level grievance step.
In the event of a pandemic declaration by the government, the Secretary of State will have to meet and discuss the impact on employees with the union.
If an employee is required to work until closing or after dark, management shall ensure that at least two employees are working the same schedule.
The Secretary of State office has agreed to consider severe weather emergency declarations by law enforcement officials. The director of department personnel will direct managers to act accordingly to keep workers safe and maintain our benefit time.
Shorts will be able to be worn from June 1 to Oct. 1 for facility employees scheduled or assigned to work outside. Two vests will be provided for every facility workers including management.
If an employee requests to work a particular shift and it's denied, the employer must provide reason for denial.
Sign-in and sign-out procedures as well as call-in procedures will be provided in writing by management. They will also identify the time system to be utilized.
Vacation earning will be increasing by at two to eight days based on length of service. Everyone will max out at 30 vacation days when they hit their 20 year mark.
Sick, Vacation, Personal Leave, and Holiday Time may now be used in 15 minute increments.
Step-grandparents and step-grandchildren have been added to Tier 1 Bereavement Time.
For employees whose department operates twenty-four hours, seven days per week, the actual holiday shall be the recognized holiday.
Employees can now apply for transfers and promotions after six months.
All employees will be eligible for 12 weeks of paid parental leave per 12 month period for a new birth or new adoption. The leave may be intermittent provided it is used in weeklong increments. If the adoption occurs after foster placement, the leave is permitted only if the child or children have not resided with the employee for more than four years. If both parents currently work for the Employer, they shall each be eligible for 12 weeks of paid leave which may be taken consecutively or concurrently.
Across the board salary increases are as follows

July 1, 2023 – $1,320* (Intermittent employees prorated)
Jan. 1, 2024 – 3%
July 1, 2024 – $1,404* (Intermittent employees prorated)
Jan. 1, 2025 – 2%
July 1, 2025 – 3%
Jan. 1, 2026 – 2%
July 1, 2026 – 3%
Jan 1, 2027 – 2%
*The dollar amount raises represent a 3% increase based on the average amount made by SOS member in our bargaining unit. These amounts are added to the annual base salary.
Use the Wage Increase Calculator to see your raises.

The Shift, Bilingual, CDL, and Training Differential are all increasing to $100 per month. Public Service Supervisors are being added to the CDL Differential.
If a Facility Manager is absent for at least five days, a PSR or MVC may be called to serve. For serving in this capacity for five days up to one full pay period, the employee will receive $100 as a stipend. Duties may not be split, rotated, or reassigned for the purpose of avoiding payment.
Employees require to perform duties onsite when their building is closed, are deemed "essential" and will be credited for one hour of flex time for every hour required to work on site.
Any color, or multiple colors, of hair are now allowed. Tattoos in good taste do not have to be covered. Certain piercings are now allowed.
August 17, 2023 – Bargaining Update: We are pleased to announce we have a tentative agreement!
August 11, 2023 – Bargaining Update: In a half day session today, management matched AFSCME's Maternity/Paternity leave language and added PSS's to those eligible for CDL stipends. Unfortunately, these offers do not meet the financial needs of our members who keep our state running.
As your Secretary of State bargaining committee continues negotiations and fighting for improvements to working conditions, wages, and more, it's time for members to start flexing some muscle. While we have made significant progress on non-economics, your bargaining committee recognizes that it still doesn't meet the needs of members.
We are calling on each of you to sign this petition and give your bargaining committee the ability to hold a vote among the membership authorizing a strike.
Please note: Signing this petition does NOT mean Secretary of State members will strike; it is simply ensuring that your bargaining committee is able to efficiently call a vote of a strike if necessary.
Questions? Reach out to your steward or your representative.
August 3, 2023 – Bargaining Update: Our fight continues at the negotiation table. We've received positive responses from management on two raises a year and expanding parental leave. However, we are still far apart on a number of issues, including wage and stipend increases for members. Your bargaining team will continue to fight for what Secretary of State workers deserve!
July 20, 2023 – Bargaining Update: Your Secretary of State bargaining team is taking us in the right direction, and we've formally introduced our economic proposals. But while we wait for management's counter-proposals in the next bargaining session, we want to update you on the latest from the negotiation table. Union Steward and Vice President Alan Jones has got your latest bargaining update, including new wins on wearing shorts and more. We are also continuing our fight for pandemic pay, in addition to our difficult fight against management forcing us to wear vests.
---
June 26, 2023 – Bargaining Update: The SOS bargaining team is making progress, but not yet at the money stage. Why? It's simple. Under state law, AFSCME, as the largest state employees union, gets to negotiate health insurance for ALL state workers. While we fought it–twice–in the Supreme Court, the court said that it was legal for the legislators to have made that law. So, here we are. As seen in the most recent updates from AFSCME, the state is proposing BIG increases in insurance costs! Until that gets settled, we can't bargain increases for you because we want to know how much those costs will impact you.
However, we have been busy getting non-economic issues tentatively agreed to. All tentative agreements will have to be voted on by the members when negotiations are done, so we thought we'd share a list of those:
Reduce the amount of time a probationary or intermittent employee has to wait to transfer from 9 months to 6 months.
Departments with 24/7 operations (IT and Police) will have the holiday on the actual holiday, rather than on the "observed" day that other departments use.
The profanity automatic 3 day suspension that has been in practice will be tempered with "up to" language and the agreement to consider the circumstances (which makes it better for grievance outcomes).
Work reassignments of over 30 days could only get time and mileage compensation if the reassignment was 30 miles over the normal commute, that will drop to 20 miles over their normal commute.
Discipline can't originate from the cameras in the work place, only be used to verify issues or accusations.
Bereavement clarity, as well as adding step grandparents and step grandchildren.
Counselings and consultations will be put in writing along with required corrective actions.
Copies of written warnings will be given to the union, so we can track new or ongoing actions against employees.
Weather closures will be informed by law enforcement locally, and the final call for accountability will be the Director of Personnel (in the past it was never clear who was making the decisions or how!)
Changes to DUI language to add cannabis and be ready to negotiate changes to the law in how law enforcement may determine cannabis influence.
Additions to issues covered under health and safety, including the need to have two or more employees in facilities at the end of the day.
Dress code and appearance topics such as hair color, tattoos, clothing, earrings, are more in line with the reality of the 2020s. Also, dress code and appearance will now be in an appendix, attached to the contract, making it something that can't be easily altered by management. We are currently holding out on getting shorts in there for workers who are out of doors during the summer.
Pandemic language included requiring negotiations over topics related to whatever that next pandemic might bring.
Copies of your personnel file will be available via email, not just hard copies or in person.
Some changes which are based on grievances we won in the last few years include the weather-related closures noted above, but also covering time and costs to test or interview at alternative test sites.
A variety of what is called "housekeeping", where contract language is brought up to date with procedures and new practices.
We know there has been concern as the June 30 date approaches, since that's the end date of the current contract. Rest assured, the contract stays in place as long as we are negotiating. Nothing changes as of July 1 just because of that date. Some of you will recall, under the Rauner administration, there was no budget for two years! So our "old" contract stayed in place then until we could actually negotiate wages with a budget in place!
The bargaining team will be back at the table July 18, and we hope to be able to begin economic negotiations at that time. This would include anything that has cost to the employer, so it is much more than wages. Of course, wages are the most important, which is why we are closely watching the health care negotiations!
---
June 12, 2023 – Bargaining Update: Secretary of State members, we have good news and updates from the bargaining table. First, we're continuing to make headway in non-economics. We're keeping our birthday holiday, and we've made huge movements on the dress code, including the acceptance of any hair color, any number of tattoos so long as they're inoffensive and more. While these have not been finalized yet, they show we are making major progress.
---
May 12, 2023 – Bargaining Update: First, we're happy to announce we've reached tentative agreements on additional non-economic issues like pandemic language. We're now in position to put together our formal economic package for the negotiation table. As we stated last week, the battle for improved wages won't be easy. But with member engagement and activity, we're sure to bring the fight to management! Check out the update report below:
---
May 5, 2023 – Bargaining Update: We're proud to report we've reached tentative agreements on many non-economic issues that will greatly improve our contract. We will soon move our focus to the economic side, which the bargaining team knows is a vital issue for all Secretary of State members. The battle for improved wages will be tough, which means all of us need to come together and stay engaged in the process. Full update below:
---
Contract Talks at Illinois Secretary of State Begin
Contract negotiations for SEIU Local 73 represented workers with the Illinois Secretary of State began on April 26. Newly elected Secretary of State Alexi Giannoulias and Local 73 President Dian Palmer were both present for initial negotiations.
"Our union was instrumental in electing Secretary Giannoulias," said President Dian Palmer. "Our members have been speaking with him about the challenges they face since before the election. We know he understands how difficult it is for our members to serve the public with low wages and antiquated systems. We appreciate him taking the time to meet with us personally in negotiations."
Last November, SEIU Local 73 officers toured multiple Secretary of State driver services facilities in downstate Illinois. While wages were a primary issue, every member spoke about having to switch between multiple computer systems in order to service the public.
"When someone comes in to get their drivers license and license plates renewed they don't understand we have to process them in different computer systems. Systems that are so old, they don't always work," said Michelle Barnhart, Chief Steward and Bargaining Team Member. "They're frustrated and so are we."
"Our bargaining team includes workers from across Illinois," said Benjamin Pfeiffer, Chief Steward and Bargaining Team Member. "We have surveyed the membership and understand what everyone wants to see in our next contract. We're glad Secretary Giannoulias is taking this as seriously as we are."
---
Find Your Union Steward and Staff Representative
Staff at the local are assigned to work with specified buildings, departments and colleges of the university. These assignments may change from time to time. Please see the list below for an updated breakdown of which staff are assigned to which areas and their contact information. If you do not see your area listed below, reach out to Shea Marshall, Division Director, at mmarshall@seiu73.org.
Karen Kleinhans DeSilva, kkleinhans@seiu73.org
Nikki Devall, ndevall@seiu73.org
Chief Stewards:
Michelle Barnhart – Anna Facility
Norine Cadle – Diversey Express Facility
Nick Crosby – Champaign Facility
Alan Jones – Howlett SOS Police
Pamela Muertz – Waterloo Facility
Marketta Paylor – Chicago North Facility (soon 17 N State Hearings)
Georgina Poole – 721 Kress Rd (West Chicago)
Marsha Somlar – Bloomington Facility
Tim Thornton – Howlett
Scott Zimmerman – Hearings/Joliet
You can find a complete list of all Stewards on ABE.
Last Updated: November 21, 2023
Use the Wage Increase Calculator to see your raises.