News
Victory in Chicago!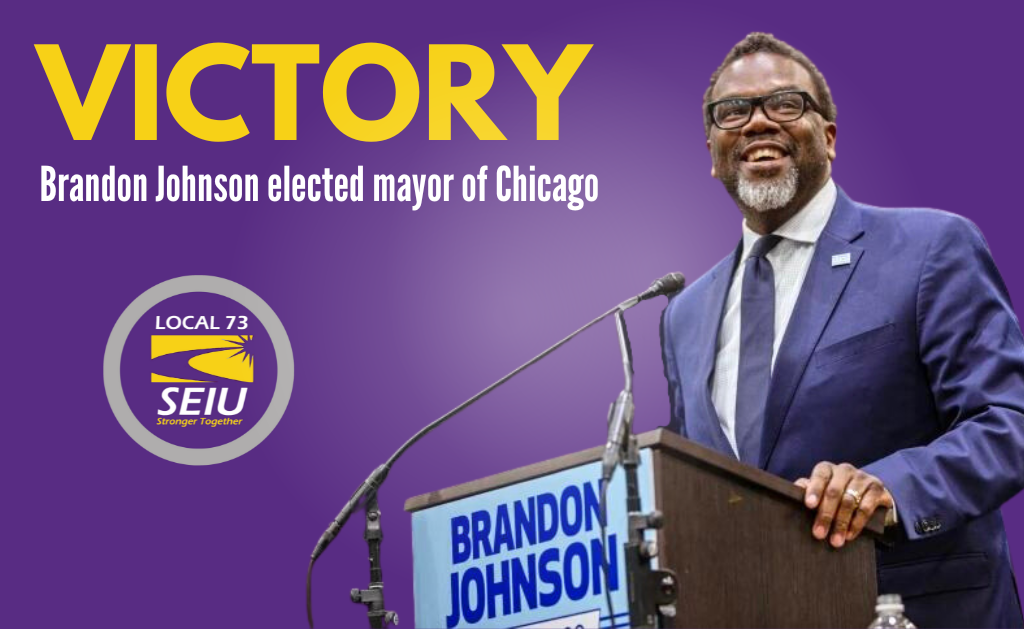 Today, SEIU members throughout Chicago are celebrating years of hard work–including not just active involvement in Brandon Johnson's mayoral campaign, but also crucial movement building work in the city that dates back more than a decade. Over 73,000 frontline, essential workers in Chicago are represented by the three SEIU Illinois State Council locals – SEIU Healthcare Illinois, SEIU Local 1, and SEIU Local 73, and members of all three locals played an active role in bringing about today's victory.
For over a decade, SEIU members have been working with allies and community partners, fighting for, building momentum towards, and winning working-family friendly measures promoting racial, social and economic justice, including a more livable minimum wage, reclaiming TIF dollars for our communities, affordable housing, access to mental health treatment and community oversight of police. Brandon Johnson's victory is the latest in a number of significant victories won by working people and we are confident that, working together, we will continue to build a city that works for all of us–regardless of race, zip code or class.
Under the Brandon Johnson administration, we can continue to build a Chicago that values working families and strives for economic justice for all.
"For years, SEIU Local 73 has been on the frontlines with Brandon Johnson and other advocates of working families, fighting for the racial, social and economic justice measures for working families and the communities we serve, and that laid the groundwork for today's victory," said SEIU Local 73 President Dian Palmer. "From special education classroom assistants at Chicago Public Schools to building services workers at University of Illinois-Chicago, and all of our members who keep Chicago's parks, universities, schools, and clinics working, we stood up to elect Brandon Johnson because he has always stood with us. We look forward to working with his administration as we build a better Chicago together."
"Brandon Johnson's Mayoral victory is a testament to the collective power of working people — from property service to fast food to healthcare workers to teachers — working people came together across sectors and Wards to elect a progressive leader that is ready to fight for all of us," said SEIU Local 1 President Genie Kastrup. "Local 1 members are the backbone of the city keeping businesses clean, airports running, and ensuring your homes are safe and functioning — with Brandon Johnson as Mayor of Chicago, working families will now have a voice at the table. We look forward to collaborating with Mayor-elect Brandon Johnson in advancing racial and economic justice for all working families across Chicago."
"SEIU members are caregivers—whether we work in school settings, keep businesses and airports clean and running, or provide hands-on care to the city's most vulnerable in nursing homes and hospitals and in home care settings, or make it possible for working families to earn a living by providing child care for our community's children, our work is an expression of care for our neighbors and for our city," said Greg Kelley, SEIU Illinois State Council President and President of SEIU Healthcare Illinois. "And together with Brandon over the past decade, we've been building a movement that cares for all of us in this city—that invests needed resources in our schools and communities, makes housing affordable and provides mental health care through a treatment not trauma approach, and gives our families a say in police reform and public safety. I don't think it's possible to overstate the importance of that work—in addition to a lot of door knocking and phone banking and community outreach in recent weeks—in securing today's victory for Chicago's working families."
"Brandon Johnson's victory tonight is a win for working people across Chicago who turned out to vote across race and neighborhood for a candidate who understands what it takes for their families and communities to thrive – strong public schools, public safety policies that deal with the root causes of crime, good union jobs, and a mayor who works for everyone, not just the powerful elite," said SEIU International President Mary Kay Henry. "As a public school teacher and organizer, he was on the frontlines serving his community and the next generation of Chicago. His victory gives further momentum to pro-worker candidates across the country who face long odds but inspire great hope."
This victory was made possible through voluntary contributions to our political action committee, COPE. COPE contributions give us the ability to elect candidates who support our members and our issues. Make your contribution to COPE today and help elect more candidates like Brandon Johnson.