News
Climate, Jobs, and Justice Summit 2023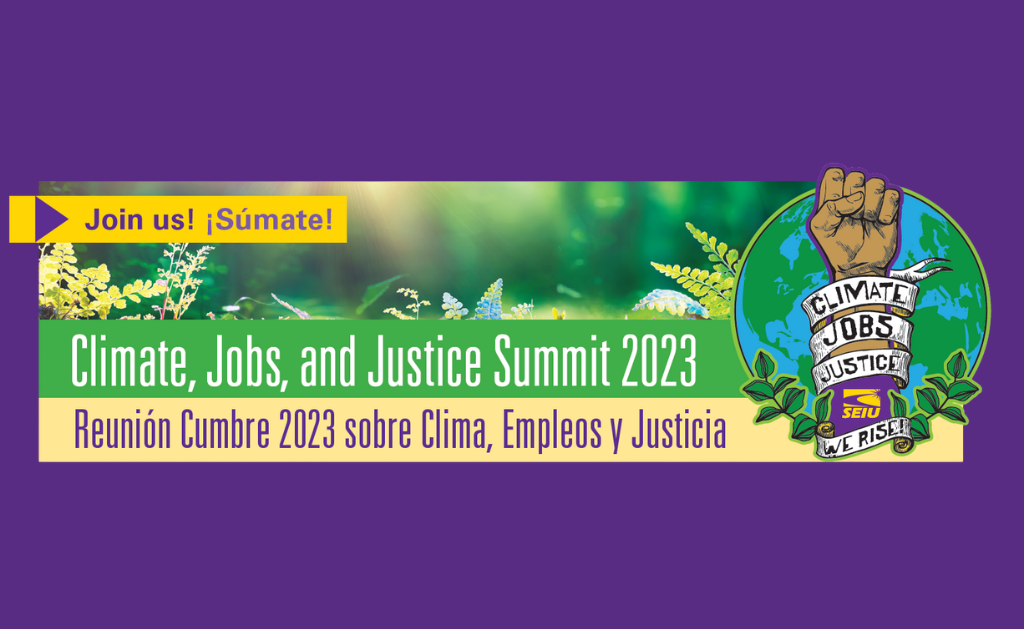 Join SEIU International President Mary Kay Henry and Executive Vice President Rocio Saenz for SEIU's third annual Climate, Jobs, and Justice Summit!
Come hear from experts on climate and environmental justice and distinguished guests. Learn about SEIU's national climate program and the exciting work of our locals as we fight for climate, jobs and justice.
Back by popular demand, we have set aside time following the program for virtual networking tables. Connect with other members on climate and environmental justice work!
Saturday, April 15, 2023
11am-1pm central
Via Zoom
---
Acompaña a la presidenta internacional del SEIU, Mary Kay Henry, y a la vicepresidenta ejecutiva Rocío Sáenz, en la tercera Reunión Cumbre Annual sobre Clima, Empleos y Justicia
Ven a escuchar a los expertos en justicia climática y ambiental y a los distinguidos invitados. Entérate del programa climático nacional de SEIU y del emocionante trabajo que están haciendo nuestros sindicatos locales mientras luchamos por el clima, empleos y la justicia.
A petición popular, Hemos reservado algo de tiempo para después del programa para hacer mesas de encuentros virtuales. ¡Conéctate con otras y otros miembros en torno al trabajo por justicia climática y ambiental!
Habrá traducción disponible
sábado, 15 de abril de 2023
11 a.m. a 1 p.m. (centro)
vía Zoom.