News
Celebrating Crossing Guard Appreciation Month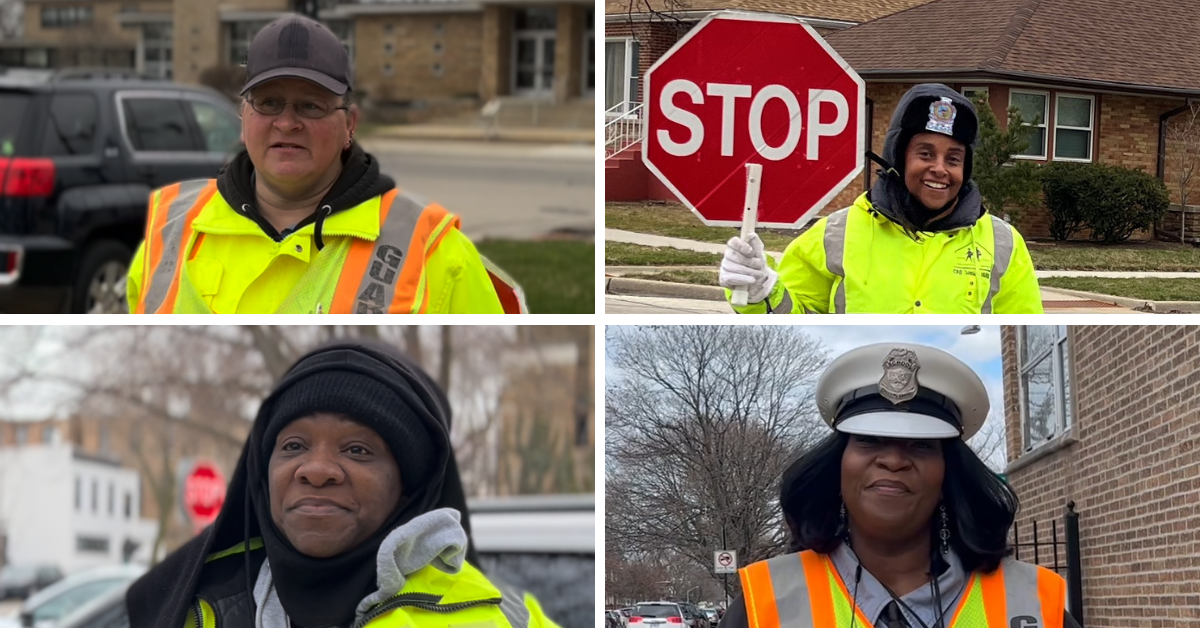 April is Crossing Guard Appreciation Month, a time for the community to celebrate these often overlooked and underappreciated workers. Crossing Guards contribute to the safety of our school communities by guiding children across the street and ensuring they can safely start their school day. We spoke with four crossing guards across Chicago to get their insight on their experiences and some of the challenges they face.
---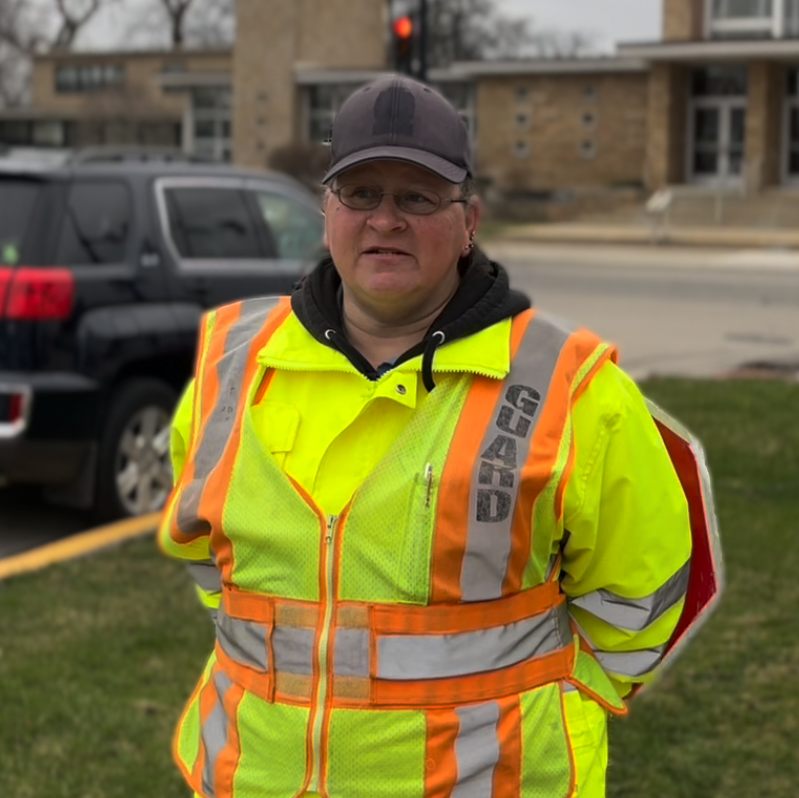 At Bridge Junior High on the city's Northwest Side, you can find Susan Watt doing a little dance, talking to the kids she crosses, and being proud of the work she's put in over the years. "When it comes to crossing, it's important to bring your all and be yourself. The kids will see me dancing or putting trivia questions in chalk on the sidewalk, and they'll be like, 'Wow. She's nuts… but she's funny!'"
For 14 years, Susan has protected children on their way to school while also putting smiles on their faces, setting the tone for each new day. "It's a great job. I have a blast with my kids," says Susan while standing firmly at a busy intersection bustling with traffic. But she also acknowledges that this job, while it is something she loves, does not give her the respect and dignity she deserves. "The kids I cross love me more than my job does. I love that they value me, but I need my job to value me, too."
---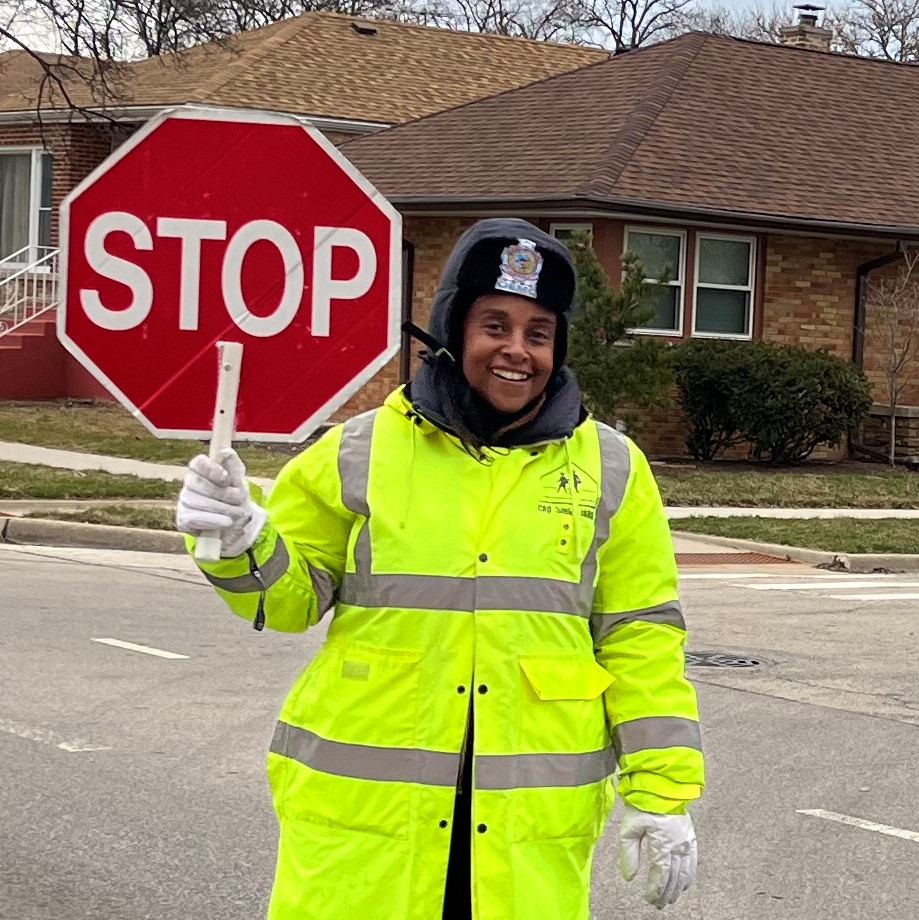 Marcella Davenport knows the community around Boone Elementary on Chicago's North Side not only because her involvement goes beyond her role as a Crossing Guard. She works with students inside the building once her shift is over, seeing the same faces she crosses in the classroom. She also volunteers to maintain the school's garden. Her grandchildren also attended Boone Elementary and she attends after-school events with her family. "I've gotten to know most of the kids in the neighborhood," she says.
Being a seasoned 23-year Crossing Guard, Marcella knows the important role they play in maintaining school safety. "We need Crossing Guards. When kids are excited about coming from school or going to school, they do tend to dash into traffic," said Marcella, "if you eliminate Crossing Guards, you're going to have a lot of problems." Marcella is also appreciative to have the support of parents and community members. "Last week, one person decided to go around us, and a parent got upset. They said, 'You have to wait! There's only one lane!' It was a challenge, but luckily we have the support of the parents and surrounding community who understand we want to go home in one piece."
---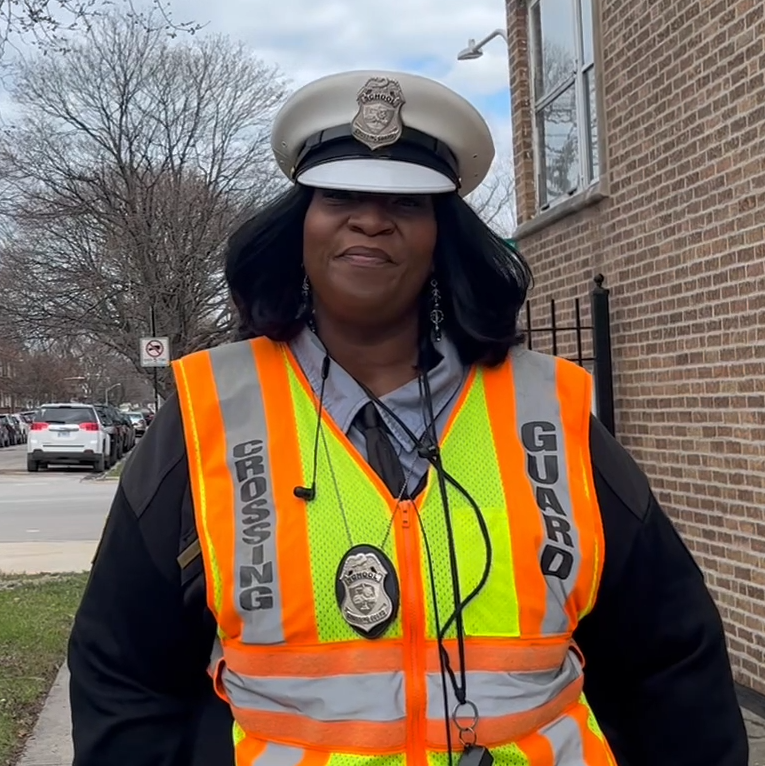 For over 8 years, Gail has taken pride in serving and protecting the children who attend Marquette Elementary and live in the surrounding community. She smiles at children, parents, and community members alike as she crosses them over a major intersection on Chicago's South side. As a Pastor, Gail has raised funds through her church to support some of the neighborhood children in need, including one student who caught Gail's attention. "When we gave her the money, she just stood there and cried. Her Mom thanked us. She told me she graduated this year."
Crossing Guards work throughout the school year, facing the harsh Midwestern winters, Spring showers, and Summer heat. Stopping traffic can be a risk, especially during heavy commuter traffic. Gail has faced issues with some drivers and pedestrians. "They tend to be in a hurry, they don't want to wait until we finish crossing the children. Sometimes, they drive up close and cuss at us – it's just a lot of disrespect. But, the rest of the community has been awesome."
---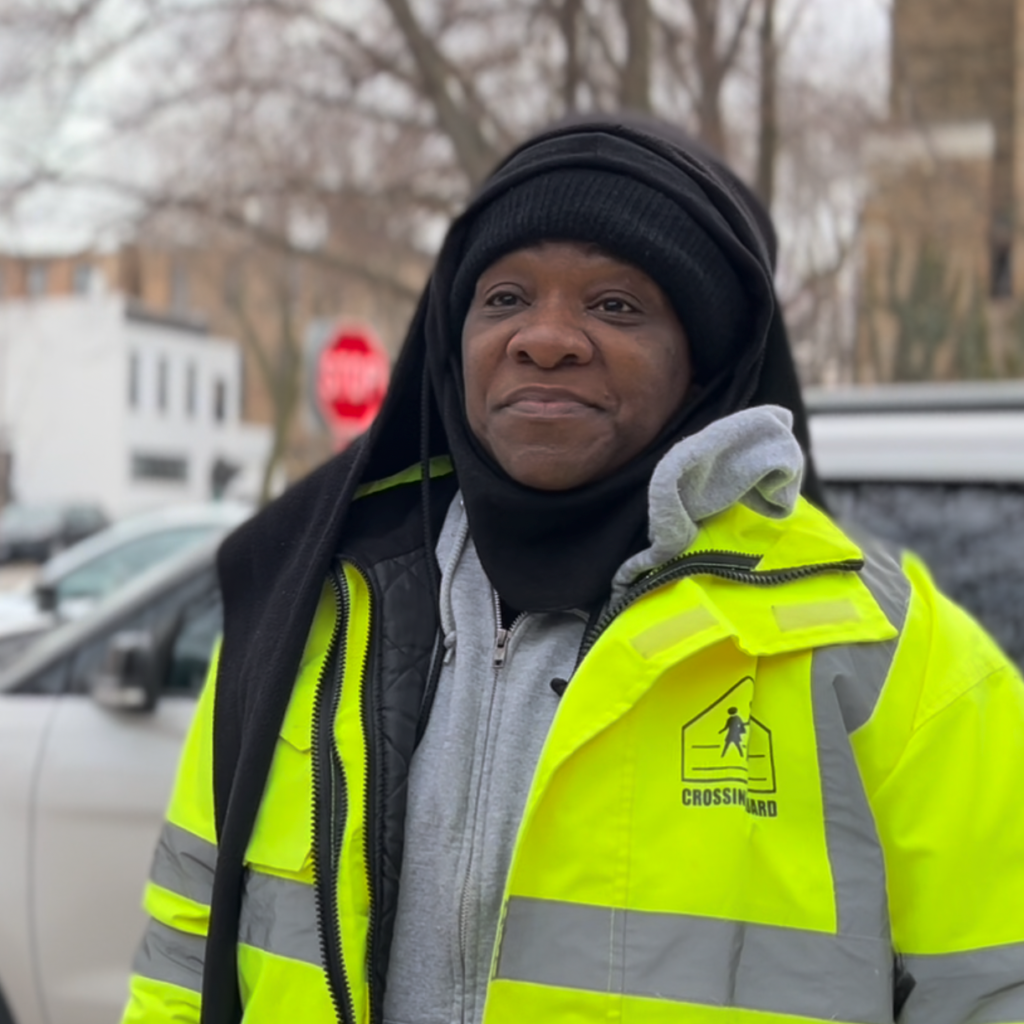 Each school day, Corliss Cummings stands guard near Newberry Math and Science Academy in Old Town, greeting each group of kids she crosses. "This job is important, especially in this area. The traffic can be so bad, so the kids need me so they can get to school safely." Corliss has been a Crossing Guard for nearly 16 years, so she's seen the dangers first-hand of unmitigated traffic in a school zone. "Without us being out here, who knows what could happen," she says. "As adults, we forget that kids don't know how to cross, and these drivers are in a rush every [morning]. That's why I try to make sure the parents trust me to take care of their kids, just like I would take care of my own children."
But all of Corliss's hard work seems to get overlooked by CPS, and she knows that without SEIU Local 73, things would be in drastic conditions. "I think if we were here without a union, [CPS] would run over us because they don't respect us." With a contract fight looming, Corliss understands the importance of stepping up the same way she does for the kids she crosses: "We're willing to do whatever it takes."