News
Political Support Grows for Cook County Workers on Strike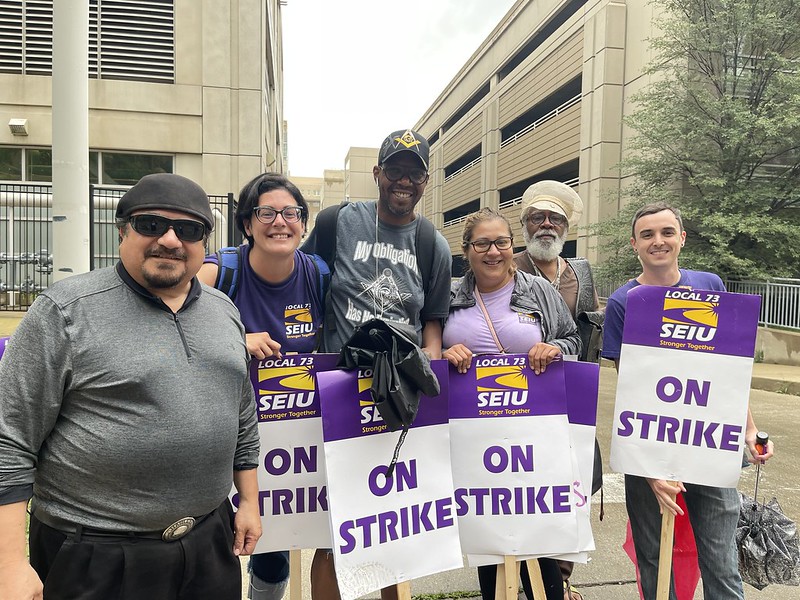 As the Cook County workers' strike enters its seventh day, political support is continuing to grow.
Yesterday, the Illinois House Progressive Caucus issued a statement supporting the members of SEIU Local 73 in their strike against Cook County Government. The statement notes that three other unions (AFSCME, Teamsters, and NNU) received "terms much more generous that the County's 'last, best, and final' offer to Local 73."
"For the last two days, Toni Preckwinkle's negotiators have refused to return to the bargaining table, and yet, she continues to claim she is bargaining in good faith," said Dian Palmer, President of Local 73. "We sent the County a new proposal Wednesday morning. A proposal that is in line with the step increases they gave the other unions. We have yet to hear back from Toni's negotiators and that's just sad. They could end this strike today."
In addition to the House Progressive Caucus, County workers have had the support of the following public officials who have come out to the picket lines:
Cook County Commissioners Frank Aguilar, Alma Anaya, Brandon Johnson, and Kevin Morrison.
Chicago Aldermen Stephanie Coleman, Rossanna Rodriguez, Mike Scott, Byron Sigcho-Lopez, Jeannette Taylor, and Andre Vasquez.
Chicago City Clerk Anna Valencia
State Senators Mike Simmons and Ram Villavalam.
State Representatives LaKeisha Collins, Edgar González, and Jawaharial Williams
Cook County workers will be striking on Thursday, July 1 at the following locations:
6:00 am – 10:00 am
Northside Construction Site
Lake Cook Rd & McHenry Rd, Buffalo Grove
Southside Construction Site
95th St. and Roberts Rd., Hickory Hills
8:00 am – 2:00 pm
Stroger Hospital
Provident Hospital
County Jail
118 N. Clark/69 W. Washington
10:00 am – 2:00 pm
Southside Construction Site
95th St. and Roberts Rd., Hickory Hills
11:00 am – 3:00 pm
Skokie and Markham Courthouses