News
Local 73 Takes The Strike to Taste of Chicago With More Support Than Ever Before!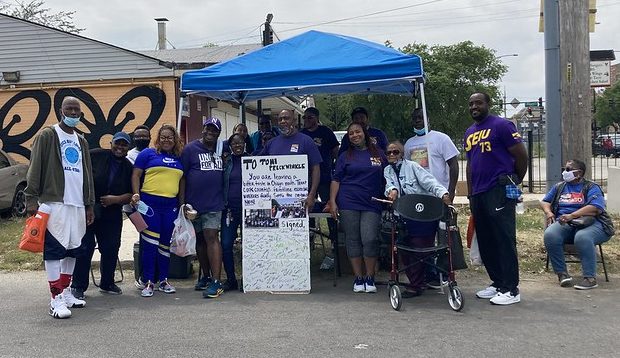 As we entered into day 16 of the strike, workers had a bad taste in their mouths after County President Toni Preckwinkle turned her back to the bargaining table. We stopped by the Taste of Chicago and spoke to community members about the strike and passed out flyers. Members asked for signatures for a giant letter that we will deliver to President Preckwinkle showing the support we have from the community. Chicago Alderman Raymond Lopez even signed the letter after speaking to our members about the hardships they've faced at work.
Alderman Lopez wasn't the only elected official showing solidarity on day 16. While we were flyering, U.S. Senator Bernie Sanders tweeted a message of support, writing "It's outrageous that Cook County received $1 billion from the American Rescue Plan but still refuses to negotiate a fair deal for workers." U.S. Representative Marie Newman also tweeted her support, writing "Let's put workers first."
We spoke to individuals who were shocked by President Preckwinkle's actions and the County's refusal to respect the essential workers who braved the pandemic every day at work. Many vowed to call President Preckwinkle and their County Commissioner to demand an end to the strike. From members of Congress to residents of Englewood, the support we have for this strike is growing. We are now putting more pressure on President Preckwinkle than ever before and we cannot let off the gas now!
After we spread our message at the Taste, workers came together for a special afternoon meeting with SEIU International President Mary Kay Henry. She commended our strike and the work we've done to stand up and "send a message" to the County.
Tomorrow, we will rest and spend time with our families. We will remain on strike, but no picketing or events are scheduled.