News
County Brings No Economic Proposals, Delays Bargaining Until Mid-June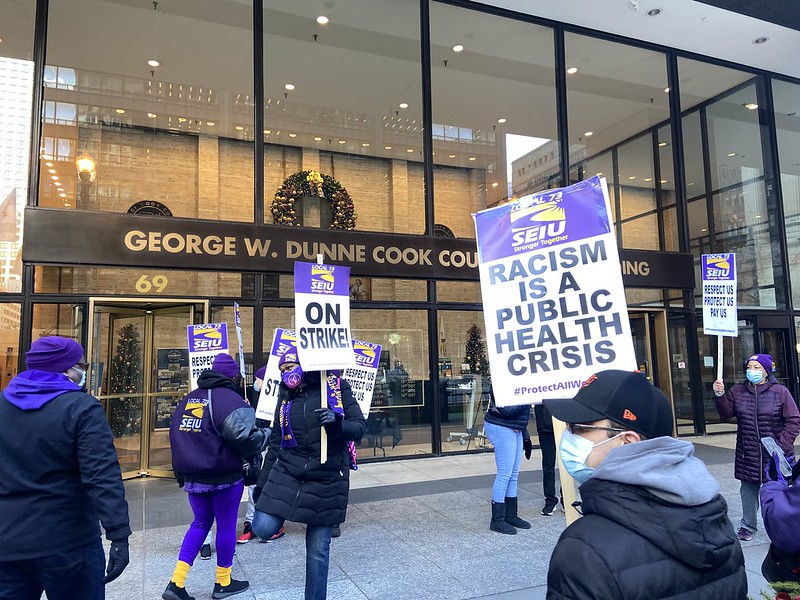 We held two negotiations on Wednesday, June 2 with Cook County.
County-wide Economic Negotiations:
In the afternoon, after nine months of negotiations, we finally held our first negotiations focused on wages and benefits. Unfortunately, the County came to the table with no proposals and no ideas. They acted like it was the first time they heard our proposals, even though, they've had our proposals since December and we've had at least two off-the-record meetings with BHR to explain them.
Now they are unwilling to meet again until June 16! We are not going to be dictated to by the County's stalling tactics. The County and CCH are forecasting steady revenue increases through 2026 and this doesn't even count the $1 billion the County is getting from the Federal government.
Our proposals are reasonable and clear. We're asked to do too much and been paid too little for far too long. Here is what we are proposing:
Increase the steps to reward longevity and experience for every SEIU Local 73 member
Fair raises every year for every worker
Equal pay for equal work, including differentials
Hazard Pay and Pandemic Pay
Affordable healthcare, including retiree health benefits
Tuition reimbursement and increased funds for continuing education
Pay professional and licensed staff based on professional experience or years of licensure
Cook County Health:
First, in the morning, we negotiated for Cook County Health on staffing and scheduling proposals. We continued to argue there is structural short staffing in which the County should treat the Union and our members as partners, not enemies. We are as interested as management in providing quality care and having the necessary staff to provide that care. This means CCH needs to be transparent about how they staff, listen to frontline workers on the impact of short staffing on patient care and employee working conditions, and management needs to be held accountable for ongoing short-staffing.
A particular focus is on the County's continued outsourcing with 'temp' employees to staff the facility. First, some of these so-called 'temps' have been around for months and years. Second, subcontracting is expensive and wastes money that could be used to recruit and retain permanent staff. Third, agency temps are bad for patient care and bad for CCH employees. We proposed to limit the length of time and reasons that agency can be used. The County still seems addicted to its short-term solutions to long-term structural problems.
Strike Vote Authorization:
The strike vote authorization is underway. We are voting to authorize a strike not because we want to strike, but because we have to be ready to strike to win the contract that County workers deserve. We are recommending members vote Yes and stand with their coworkers to strike for a fair contract.
You should have received an email with instructions on how to cast your vote online. If you have not received an email please check your spam/junk mail folder. If you still have not received an email, please contact your steward or union organizer.