News
Turning Point Reached in Cook County Health Negotiations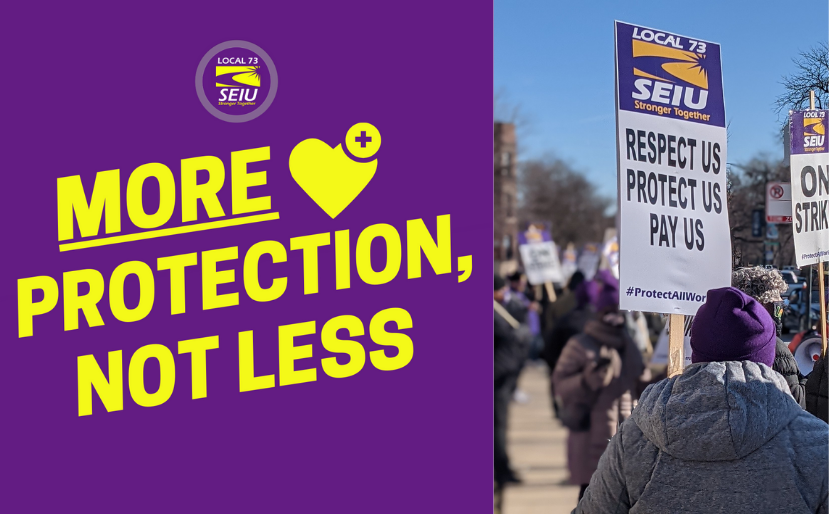 Union contract negotiations hit an important turning point this week. After making the demand for the last six months, the County finally agreed to begin negotiations at a single bargaining table for all SEIU Local 73 Cook County Health (CCH) workers. We all work for the same hospital and health system, we are all in the same union, and if we are going to move CCH toward becoming an "Employer of Choice" and a "Provider of Choice", we can only succeed if we do it together.
The shift to one table is a victory won by our collective persistence and actions at work and the bargaining table, along with the support of the community, labor, and political allies. But it is a victory over the process and not the substance of our contract. We still have a long way to go to win improvements in our work lives and in the conditions under which we provide care and service to our patients.
Monday's negotiations with the professional employees in CCH indicated how far apart we are from management in getting to an agreement. CCH management does not appear to believe there are any problems at Stroger, Provident, Cermak, or in community-based care. They don't acknowledge any problems so they are unwilling to propose any solutions.
For example:
Several Rehab Therapists resigned in recent weeks. These resignations were in large measure caused by short-staffing, floating outside of areas of competence, and scheduling issues. Management offered no explanation and no answers to the problem.
Social workers at Stroger and in the community are frustrated by the lack of adequate training, program development, and clinical supervision. They want commitments for the workload to be based on acuity and behavioral health issues. There are also concerns about being assigned work outside of their scope of practice or competencies. CCH doesn't acknowledge the concerns and therefore saw no reason to respond to our proposals.
At Cermak, management wants to force every mental health specialist to change their job assignment with total disregard to employee satisfaction and continuity of care for patients. We cannot let management treat our members like furniture that can be moved around and repurposed without respecting the needs of those workers and their patients.
CCH rejected proposals that CRNAs have the same parking rights as other professionals in the anesthesiology department.
The next negotiations on March 25 will include a financial presentation by the County and then we will bargain over issues that affect all SEIU Local 73 members at CCH. We each play an important role in the delivery of care and service to patients and deserve the same rights and respect from our employer. We continue to fight for a contract that meets the urgent needs of our members, patients, and communities. Our collective action across the County brought us to this point and is what will continue to drive the bargaining forward.
Here is the schedule for upcoming negotiations:
March 17 Offices Under the President
March 19 Clerk's Office
March 22 Sheriff's Office
March 25 CCH
April 2 Clerk's Office
You can view the latest information on Cook County Bargaining on our website.
Be sure to show your union pride every Wednesday by wearing your Local 73 swag or wearing purple! Organizers will distribute stickers at worksites for you to wear. Working remotely? Here's a Zoom background you can use in meetings!