News
Non-economic Differences Narrow at Cook County Clerk's Office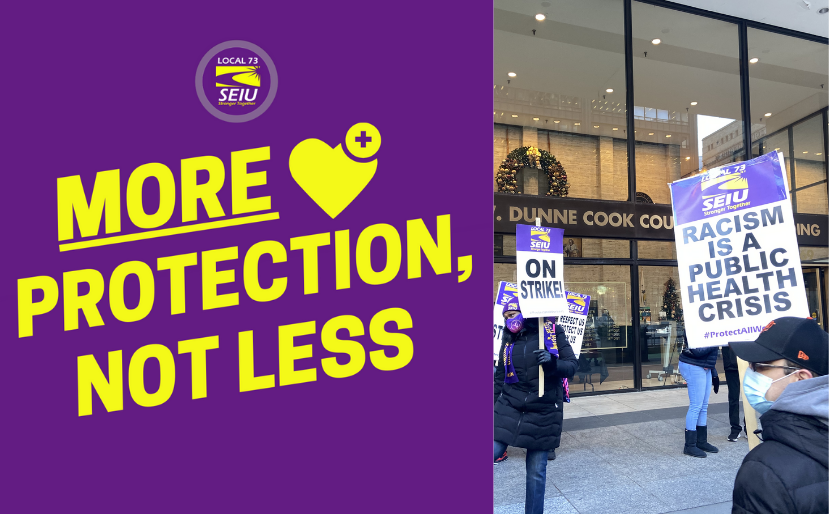 SEIU Local 73's negotiations with the County Clerk ended on Friday with the narrowing of differences on the remaining non-economic issues. We resolved open issues related to vacation scheduling so there is no reference to black-out periods for vacation requests and management will, to the degree it is possible, approve employee vacation requests.
We are getting closer to an agreement that allows lateral transfers without having to go through unnecessary interviews or jump through other hoops. Also, we are moving closer across the County in recognizing that workers across Cook County who are represented by SEIU Local 73 will have seniority rights to fill vacancies either in a promotion or transfer (if no one in the bargaining unit is qualified or applies for the position) or in a layoff.
That leaves some issues around seasonal workers, whether to incorporate supervisors and administrative and clerical workers into the same contract and making sure there is no dispute about the inclusion of newly created positions in the union.
We should be able to resolve most, if not all, of these issues, are our April 2 negotiations. Then we will need to schedule negotiations on our proposals for economic justice:
Equal Pay for Equal Work
Increase each step to a minimum of 5% to reward experience and seniority
A fair wage across the board every year for every worker
Pandemic Pay for workers who worked in person throughout the pandemic
No concessions
Other upcoming bargaining dates are:
March 22 Sheriff's Office
March 25 CCH
April 2 Clerk's Office
You can view the latest information on Cook County Bargaining on our website.
Be sure to show your union pride every Wednesday by wearing your Local 73 swag or wearing purple! Organizers will distribute stickers at worksites for you to wear. Working remotely? Here's a Zoom background you can use in meetings!