News
UIC: We Are Going to #StrikeForOurLives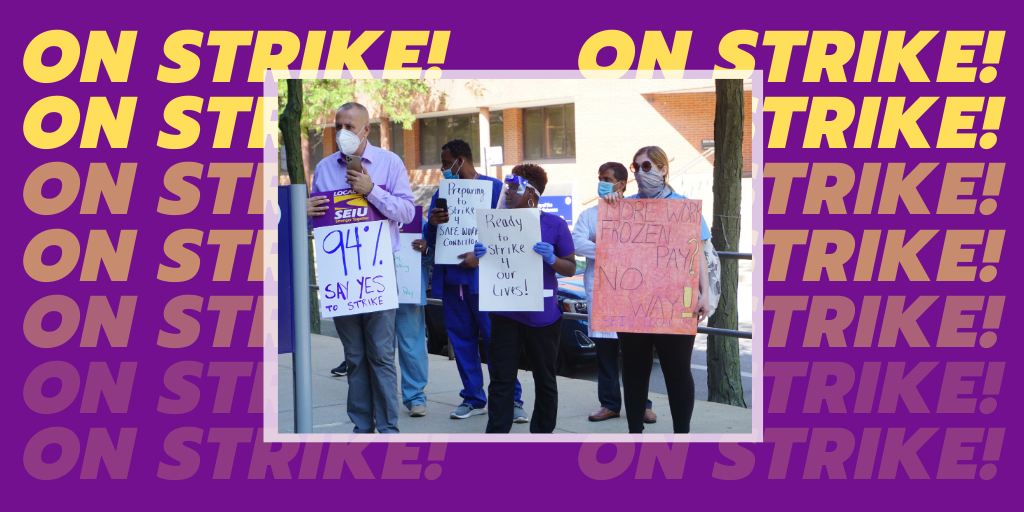 After 15 months of negotiations, UIC refuses to respect us, protect us and pay us so it's time to strike for our lives starting tomorrow.

94% voted to strike yet UIC clearly isn't taking us seriously. Monday at 6 am, we are walking off the job together. We are putting UIC on notice that we won't stop until workplace conditions improve, wages are better, safe staffing levels are implemented, and PPE is universal.

We're using the power of our union family to make things better for our patients, our students and our community. We demand that UIC: 
Protect us: Provide adequate PPE for the duration of the pandemic. Enforce the protocols set up to keep everyone safe. If we're not safe on the job, neither are the people we care for or the students we serve.  

Respect us: Give UIC workers doing the same job a chance to thrive whether down state or in Chicago. Give us a say in how we best deliver care and services — and we say we need more staff to properly care for everyone walking through UIC's doors. 

Pay us: We are essential workers on the front lines of the COVID-19 pandemic and others dealing with its impact. We need more than a pat on the back. We need essential pay.  We demand a living wage of at least $15/hr. 
We went into this demanding that we wanted to see significant yearly cost of living increases, market wages, $15 minimum, hazard pay, and steps for the professionals, and steps for people at the top of the scale. After bargaining for 6 days straight over countless hours, management refused to budge on economics.

UIC has the money to pay agency employees and strike breakers. They have the money to build an entire new building across from the hospital. But apparently, they don't have to the money when it comes to paying their employees what we deserve.

We need everyone on the picket lines to show UIC our strength in numbers. The stronger the pickets, the shorter the strike. 
Locations and Times: 
Chicago West Campus: 1740 W Taylor, Chicago Il 60612 – 6AM 

Chicago East Campus:  750 S Halsted St, Chicago Il 60607 – 6AM 

College of Medicine Peoria: 1 Illinois Dr, Peoria Il 61605 – 6AM 

College of Medicine Rockford: 1601 Parkview Ave, Rockford Il 61107 – 6AM 
If you were one of the job titles that was under the injunction, stop by the sign in table to get a solidarity sticker that you can wear in-doors, and join us on the line for before and after your shift.

If you are normally working from home, we advise you to leave an away message on your email and phone, here is a sample one:

We're on strike! UIC has left 4,000+ SEIU Local 73 members across Illinois without a contract for a year. We are fighting for living wages and safe staffing levels. Read more about this on our website. We will be on strike until further notice. Contact President Kileeen, Chancellor Amiridis and the University of Illinois Board of Trustees and ask them to settle a fair contract now. 
If you are quarantined or if you are working too far from any other picket line, join our "Virtual Picket" zoom call to find how you can actively participate in the strike. Be on the lookout for a text tomorrow with the information.

Remember, you do NOT need to tell your manager that you are on strike. It is management's job, not yours, to figure out what to do with timesheets, etc. Your responsibility tomorrow is to actively participate in every way you can to show solidarity and strength.

If you have any more questions, review our FAQ or contact your steward, your bargaining team member, or your picket captain! If you don't know who that is, text 206-458-9138 with your question!

Our time is here. Our time is now. It's time to take the gloves off and withhold our labor until we get the contract we deserve. When we fight, we win!

In Solidarity,

UIC Bargaining Committee

SEIU Local 73 members are going out on an unfair labor practice strike due to UIC's refusal to bargain in good faith over contract negotiations, changes regarding COVID-19 protocols, and self-screening protocols, among other items and due to UIC's ill-guided attempt to restrain SEIU Local 73 members' right to engage in a strike.