News
SEIU Local 73 Strike Solidarity Fund
SEIU Local 73 represents more than 29,000 workers, primarily in public service and publicly funded positions in school districts, municipalities, social service agencies, and many other job classifications in Illinois and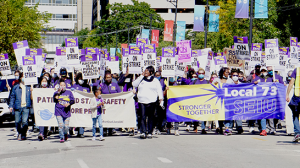 Indiana. Our members keep our buildings and communities safe and clean and our families healthy, they care for our children and our elderly, and keep our cities and states running.
Right now, nearly 4,000 SEIU Local 73 members at the University of Illinois at Chicago have been on strike since September 14 after more than a year of contract negotiations, demanding UIC  "respect us, protect us, and pay us." Workers in Chicago, Rockford, Springfield and Peoria from four different bargaining units that span the building services workers who clean bathrooms to occupational therapists to people who work with children with special needs to hospital support staff continue to fight.
Workers on strike are electing to go without pay in the short-term in order to achieve a contract that serves them better in the long-term. That's why it's so crucial that our communities help striking workers, like those currently on strike at UIC, to lessen the burden on their shoulders as they take on a system that has disrespected and under-appreciated them for far too long.
Donations made to the SEIU Local 73 Strike Solidarity Fund will be used to provide members on strike with material strike support and aid striking members who are facing financial hardship
Contributions to the SEIU Local 73 Solidarity Fund are not tax-deductible. Employers, associations of employers, and agents thereof cannot contribute to the SEIU Local 73 Solidarity Fund. Anonymous donations cannot be accepted.
For donations over $1,000, please contact Hardship@seiu73.org.
Please note that this solicitation is limited to residents of Illinois and Indiana.