News
SEIU Local 73 Establishes Strike and Hardship Fund for Striking Workers (Application Now Live)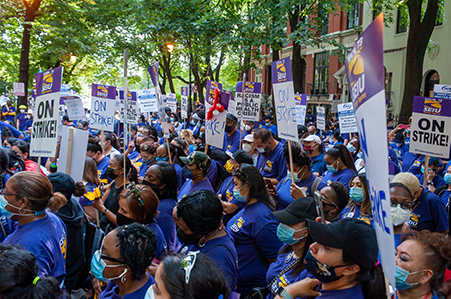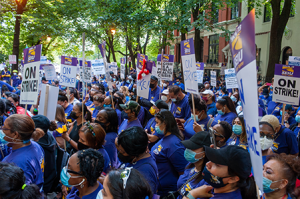 SEIU Local 73 has established a Strike and Hardship Fund for the purpose of supporting striking SEIU Local 73 members.  The Strike and Hardship Fund is not intended to be a substitute for wages but rather a tool to strengthen participation in approved strike actions by helping a limited number of financially disadvantaged striking members.   
Applications for the Strike and Hardship Fund will be available on the SEIU Local 73 website on September 28, 2020 and will remain open through 5 pm on October 2, 2020.   Members seeking hardship fund distributions must meet the eligibility criteria and make application for hardship distributions online on the forms provided by the union, or, alternatively, by visiting the Local union office.   Online applications are strongly preferred.  No late applications will be accepted.   
The application period for hardship distributions has closed as of 5:00 PM Friday, October 2. Please email any questions to Hardship@seiu73.org
Hardship
allocations
:  
The Local shall distribute hardship fund allocations of up to $50 per day per striker for each day the striker participates in picket duty and otherwise meets the eligibility criteria, up to a maximum of $250 per week and $550 in total or until all funds have been disbursed.   
Funding:  
Local 73 will contribute to the strike and hardship fund out of its general fund as authorized by its governing board and accept solidarity donations from outside individuals and organizations.  Solidarity donations will be used to support striking SEIU Local 73 members.  Employers are not eligible to contribute to the fund and anonymous donations cannot be accepted.   
Hardship Fund Committee
:
The Local 73 President shall appoint a Hardship Fund Committee to implement this policy, review and make determinations on requests for hardship fund distributions, and distribute hardship funds. The Hardship Fund Committee will establish rules consistent with this policy on the advice of attorneys and tax advisors.   
Eligibility:
To be eligible for hardship fund distributions, members must be: 
In good standing 

(non-members who sign a membership card will meet this requirement)

 

On active payroll at 

the 

start of strike: members laid off, on workers compensation or receiving sick and accident benefits are not eligible

 

Members m

ust participate in 

picket duty 

each day they seek hardship funds

.  Participation means: 

 

Completing a full

 

picket shift or 

 
Virtual

 picket

 and completing 

daily 

follow-up assignments

.  

 

Members who cross the picket line are not eligible for 

any hardship fund

 distributions

 and appropriate action may be taken under the SEIU Local 73 Constitution if charges are brought

.  

 

Members are not eligible to receive hardship funds for any day/s they receive pay from their employer.

 

Members

 are only eligible for the benefit for the days in which they 

participate

 in picket duty.  

 

Members must 

complete an application and 

demonstrate hardship 

caused as a result of striking 

in their application for hardship funds.  

 
Members who have been enjoined from striking are not eligible for hardship fund

s

.  

 
Distribution
Instructions regarding the distribution of hardship benefits will be determined by the Hardship Committee.  No in-person distributions will be made to individuals who do not present photo identification.  The Local will endeavor to issue hardship distributions in the most efficient and expeditious manner possible.   
It is important to remember that all UIC employees represented by SEIU Local 73 received a full paycheck on September 16 and that on September 30 will receive pay for time worked up through when the strike began on September 14.  Also, there were three pay periods in the month of September.   
Questions
Members with questions concerning the hardship fund should email hardship@seiu73.org.