News
Jewish Federation Bargaining Committee Reaches TA with Management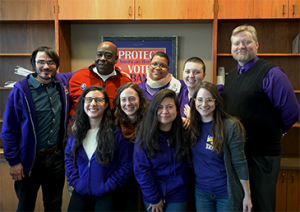 HUGE ANNOUNCEMENT: We've reached an agreement with Management! This is tentative, pending approval by our union members! We've put up a strong fight and made huge gains with our 52% membership. In 2016 we had such low membership that we sustained losses. Imagine what we'll be able to do in 3 years, at 100% membership! Below is a summary of our wins:
9% pay increases across-the-board, over the length of the 3-year contract
4 weeks paid parental leave (up from NONE), 3 weeks for CJE
Increased wage minimums
Increases in benefit time
Increases in wage differentials for CJE employees, holiday pay for ISPs
Ability to cash out PTO
Friday after Thanksgiving paid starting 2020, MLK day paid starting 2021
A new substitute teacher policy for JCC teachers
Simplified and improved health insurance options
Expanded length of bereavement leave, in accordance with Jewish tradition
For JCFS CCCs and Child Welfare: agreement by Management to negotiate caseload caps and comp time policies, which includes an agreement to cash out comp time
Expanded rights for stewards, and policies that will help us strengthen our union
The details of these wins vary by agency, so it is important that everyone come out to learn about the new contract and vote on it. In order to ratify our new contract, we need a majority of voters (50% plus 1) to approve. Your voice needs to be heard in this process! It will likely take place in mid-January, so keep an eye on our Facebook group page. If you haven't received bargaining updates via your personal email, message this page to provide your email address. Sign a member card if you haven't already and reach out to your bargaining committee and stewards with any questions.
Our fight never stops, though! TAKE ACTION TODAY:
Take action
Share your story about why you chose to join the union
Sign up for email and text updates
For more information, email or call your Member Action Center at mac@seiu73.org and (312) 787-5868, or reach out to your agency stewards and bargaining committee leaders: