The Workers' Rights Amendment
From the skyscrapers of Chicago to the rolling hills of Carbondale, Illinoisans want to work in safe, thriving environments. Whether you're a first responder or a custodian, we all deserve the right to come together with our colleagues and negotiate for better pay, stronger benefits, and safe working conditions. We all deserve a voice at work. But the wealthy few want to stand in the way of our economic progress. They want to silence workers by stripping away our rights in order to gain more profits and power.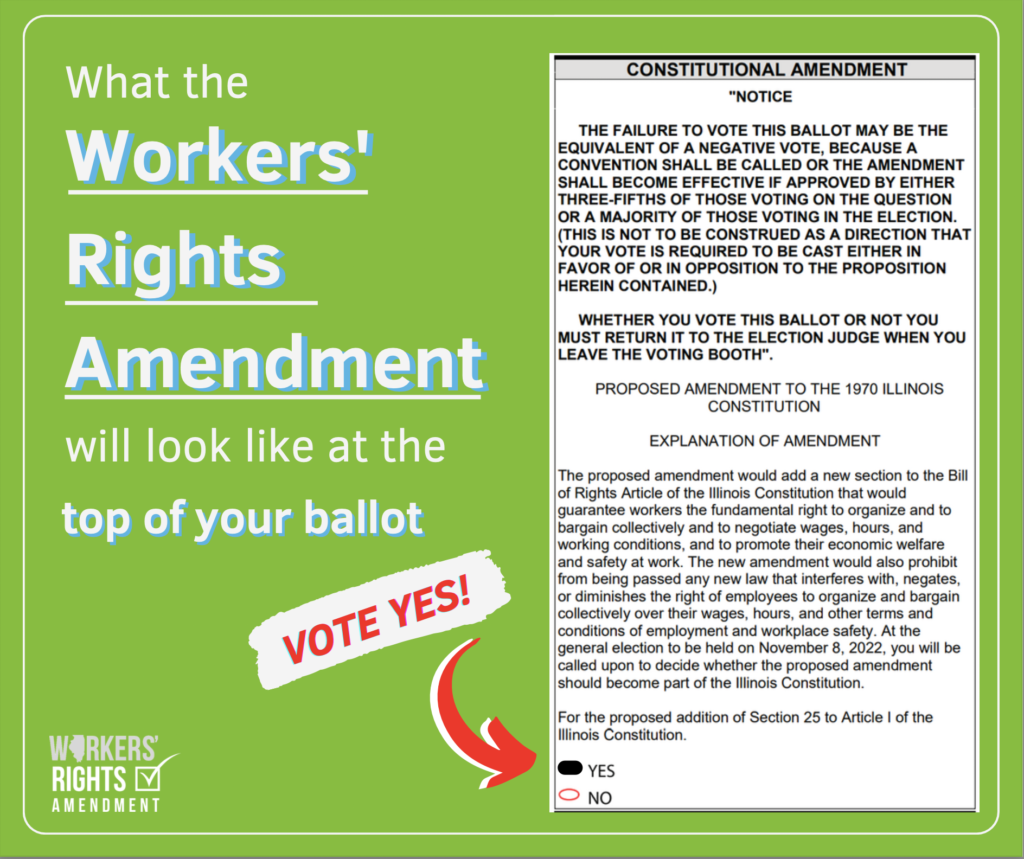 Working families, from Peoria to Cicero, are struggling with skyrocketing food and gas prices while major corporations are reporting record profits. Now, more than ever, we must come together to protect our rights in the face of excessive greed. The Workers' Rights Amendment protects Illinois workers by guaranteeing our right to negotiate for pay raises, lifting worker pay to help deal with rising costs, and helps create good-paying jobs available to all workers. The Workers' Rights Amendment protects all workers who speak out against workplace issues, from food safety concerns to shoddy construction work, making us all safer. The Workers' Rights Amendment helps build an economy that works for all Illinoisans, regardless of our race, genders, or education level. On Election Day, November 8, vote yes for the Workers' Rights Amendment.
How will the Workers' Rights Amendment protect my rights?
The WRA would prohibit Illinois from passing any state law (and any municipality from passing a local ordinance) "that interferes with, negates, or diminishes the right of employees to organize and bargain collectively over their wages, hours, and other terms and conditions of employment and workplace safety." That means the WRA would prohibit the passage of any so-called "right-to-work" laws in our state, which are designed to reduce workers' rights and benefit big corporations. Neighboring states (Indiana, Michigan, and Wisconsin) with these laws have seen reduced hourly wages (by 3 percent) and a lag in economic growth.
I'm a union member, so my rights are protected by my contract. Why should I care about the Workers' Rights Amendment?"
Union members receive benefits and protections in contracts bargained between the union and employer. But as we've seen in Illinois and other states, anti-union lawmakers and big corporations (like Bruce Rauner, Ken Griffin, and the Koch brothers) have tried to undermine or eliminate your right to collectively bargain. By passing the WRA, we can permanently enshrine the fundamental right to collectively bargain in the Illinois Constitution.
Does the Workers' Rights Amendment change our state's labor laws?
The amendment does not change our state's current labor laws, it only creates a constitutional floor for collective bargaining that will prevent future attacks on workers' rights like those we've seen in many other states.
How will the Workers' Rights Amendment help the economy?
Union contracts guarantee fair treatment for all, including equal pay for people of color and women. When people can secure good jobs with fair pay, that boosts local economies. The WRA will put more money in families' bank accounts and strengthen our communities by building the middle class. This benefits everyone, both union and non-union workers alike.
Will the Workers' Rights Amendment increase my property taxes?
No. Workers don't determine property tax rates. Opponents of the WRA are trying to scare voters by saying the WRA will increase property taxes. What the WRA will do is guarantee the rights of workers to bargain for fair wages and benefits. This means Illinois families would be better able to afford the rising cost of everything from gas to groceries to property taxes.
How will the Workers' Rights Amendment improve public health and safety?
The WRA will keep workers and our communities safe by protecting their right to speak up about dangerous situations without fear of being fired. Unsafe construction, food safety issues, and dangerously low hospital staffing are threats to everyone when workers are afraid to report these conditions.
When can I vote for the Workers' Rights Amendment?
On Tuesday, November 8, 2022, Illinois voters will have the opportunity to vote YES to protect worker rights. (You can also vote early in-person in many communities beginning September 29 or apply to vote by mail.)
How will the Workers' Right Amendment appear on the ballot?
The WRA will be the first item on your ballot. You will be asked should the Illinois Constitution be amended to add a new section to the Bill of Rights Article of the Illinois Constitution that would guarantee workers the fundamental right to organize and to bargain collectively and to negotiate wages, hours, and working conditions, and to promote their economic welfare and safety at work. To support the Workers' Rights Amendment vote "Yes" on the question.