News
Jewish Council on Urban Affairs Triumphs with First Union Contract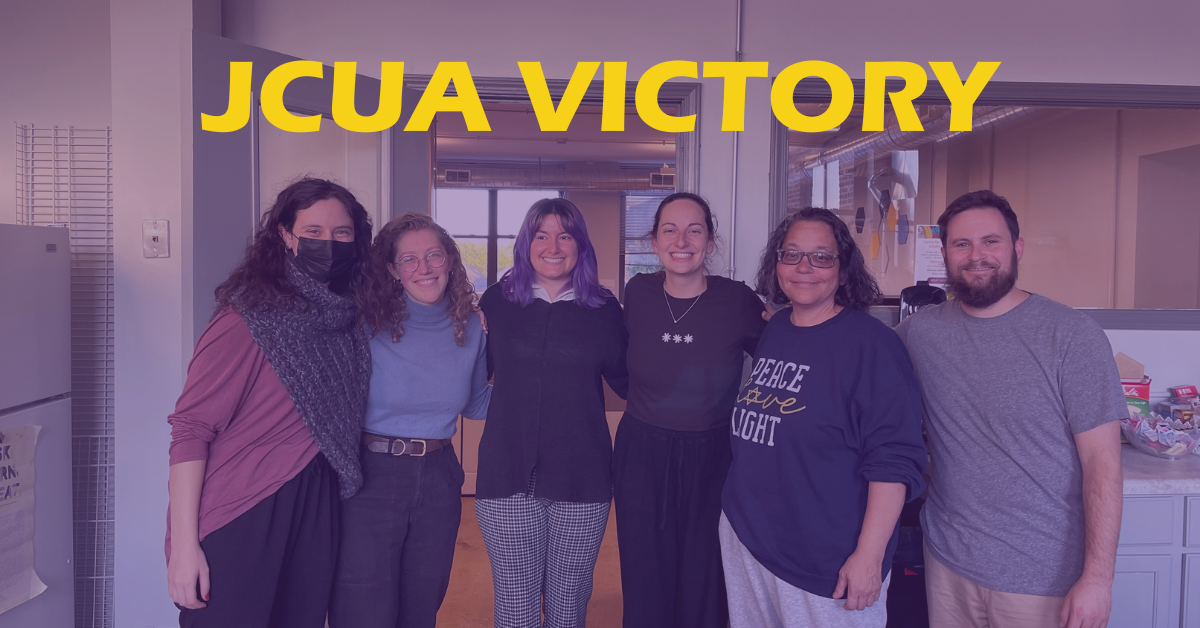 SEIU Local 73 members at the Jewish Council on Urban Affairs (JCUA) recently achieved a significant milestone by ratifying their inaugural contract. This accomplishment marks a remarkable step forward for the organization and its dedicated staff.
I am thrilled to be signing our very first contract! It has been empowering to be part of co-creating the conditions and policies at the workplace, and I'm incredibly grateful for the work SEIU local 73 has done in representing us with dedication, patience, and care.

Rose Shapiro, JCUA Community Development Manager and Bargaining Committee Member
The comprehensive five-year contract secures a range of essential benefits and improvements for the JCUA team, illustrating a steadfast commitment to employee well-being and job satisfaction. Some of the key victories encompass the preservation of "Wellness Fridays" every other week, granting staff the last three hours off with pay. Additionally, employees' current ability to work from home multiple days each week has been preserved subject only to changes that must be bargained by the employer, and the opportunity to earn flex time after exceeding 40 hours in a week.
The financial gains are equally substantial, with a remarkable 11% wage increase over the first three years and a 4% retroactive increment to July 1, 2023. The contract also incorporates a wage re-opener in the fourth year and various upgrades based on new wage tables providing significant salary minimums that increase based on years of service, further demonstrating a commitment to fair compensation and financial stability for all team members.
Among the noteworthy provisions are the inclusion of 22 paid holidays and early dismissal with pay on 5 Holiday Eves, 18 sick days per year, and seven days of bereavement for immediate family members per occurrence. The contract prioritizes work-life balance with 8 weeks of paid and 4 weeks of unpaid parental leave, and a 1-month paid sabbatical leave after 5 years on the job. Moreover, the contract includes the crucial provision of employer-paid health insurance.