News
Two Weeks and We're Still Fighting!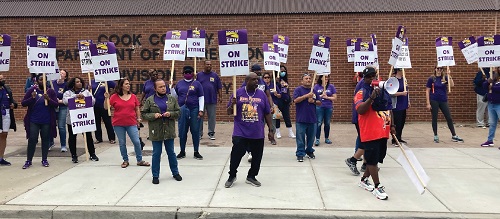 On day 14 of the strike, members found the joy in the struggle for a fair contract. We kicked off the day with picketing at the County Jail, Stroger and construction sites in Hickory Hills and Buffalo Grove.
This morning we received word that Toni Preckwinkle would be at an event in North Lawndale. We quickly mobilized some workers to head over and make our presence known. At first they let us into the building but quickly kicked us out where we waited patiently. Someone from inside informed us the press were asking Toni about the strike. Afterwards, she tried to sneak out the back door where we were waiting and called on her to settle the contract before she sped away.
In the afternoon, all strike lines traveled to the County Jail for an energizing afternoon event. The crowd marched three separate times around California Ave. to the Court House, to the Administrative Building, and to the Maximum Security Building. Members led passionate chants demanding a fair contract that echoed throughout the block. Hundreds of members lined both sides of the sidewalk, creating a tunnel of purple for drivers to pass through.
After the event wrapped up, we came together for a virtual civil disobedience training featuring more than 100 members sharing their experiences to prepare us for any escalation that may lay ahead in this fight. If you would like to sign up to participate in civil disobedience actions, please click here.
It's clear that members are committed to doing whatever it takes to win the fair contract they deserve. Whether through dance, chanting or whatever the moment calls us to do, we will continuing shutting it down until County President Toni Preckwinkle respects us, protects us, and pays us what we are worth!
Tomorrow morning, we will be picketing and leafleting aroung the Maywood Circuit Court to let Maywood residents County Clerk Karen Yarbrough and Illinois Speaker of the House Chris Welch know we are still here and we are not backing down!
Tomorrow afternoon, we are blessed to have the Chicago Federation of Labor holding a hands-free distribution of fresh fruit and produce to our members who are most in need. The event will be at 399 Operating Engineers Hall, 2260 S. Grove St., Chicago, IL. Please come wearing purple so volunteers can identify you as a Local 73 member.
Tomorrow evening, we will be holding a prayer vigil on Preckwinkle's home street. We will be joined by faith leaders and once again, flyer her neighborhood to make our presence known.
Management is tracking every single person who crosses the line and goes into work, and they are using that information to assess our strength and resolve to settle.
If you cross the picket line, you are sending a message to Toni that you are OK with continuing to be walked over and disrespected. So if you believe that you are worth more than a dime, then you need to get on the line with your coworkers and fight till we settle for the deal that you and your family deserve.
Come out to picket at the following locations tomorrow:
Friday, July 9
6:00 am – 2:00 pm
Southside Construction Site
95th St. and Roberts Rd., Hickory Hills
7:00 am – 11:00 am
Northside Construction Site
Lake Cook Rd & McHenry Rd, Buffalo Grove
9:00 am – 1:00 pm
Markham Courthouse
9:00 am – 11:00 am
Maywood Circuit Court Picket and Flyering
1500 Maybrook Dr.
Maywood, IL
11:00 am – 3:00 pm
Skokie Courthouse
12:00 pm – 3:00 pm
Chicago Federation of Labor Hands-Free Fruit/Produce Distribution
399 Operating Engineers Hall
2260 S. Grove St.
Chicago, IL
7:30 pm
Candlelight Vigil
51st St. and S. Kimbark
Hyde Park
Don't forget to check in at your strike location every day in order to qualify for the Strike Hardship Fund.
Upload your strike photos here.
You can view the latest information on Cook County Bargaining on our website.