News
Vote Lavitta Steward for Civil Service Advisory Committee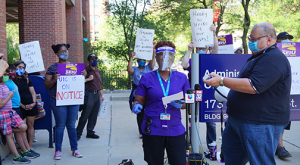 Sisters and Brothers,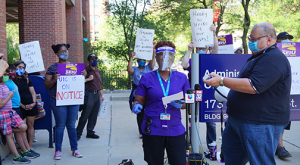 On the picket lines, our sister Lavitta (Vee) Steward was no stranger to the bullhorn. She hopped on it every chance she got and was an integral part of keeping striking workers energized as they fought for and received a historic contract. As part of the UIC bargaining committee, she fought alongside other SEIU Local 73 members to demand that the university respect us, protect us and pay us.
That type of commitment is why she would be an ideal choice for the State Universities Civil Service Advisory Committee, and why we want members to vote for her. These committee members are elected by civil service employees like you at each of our state's Universities and Agencies. They represent UIC employees by functioning in an advisory capacity to the Merit Board on "All matters pertaining to the University System." Our members deserve a bigger voice, and this is an opportunity to do so!
On Tuesday, November 10, we ask that you vote for Vee in our continued fight for justice on campus. The election will be held via electronic ballot 12:01am until 11:59pm that day. More detailed voting information will be distributed to Civil Service employees prior to the date of the election.
About Vee
Vee brings robust life experience to this position from a history of caring and helping all those in need. She comes from a tradition of inspirational women and models her life after her mother, Curtisteen Steward, who served the UIC community for 31 years before retiring in 2011 from her position as Associate Dean of Finance and Resource Planning in the School of Public Health.
Vee draws experience from being a committee member within her church community, an advocate for coworkers and patients at UIC, and from her own life as a single parent, mother, and grandmother. Vee tragically lost her daughter in 2017 and understands first-hand the weight of responsibility many Civil Service employees carry. She is proud to be an SEIU Local 73 member where she serves as a Union Steward, Bargaining Committee member, and served as Contract Captain in the 2020 campaign.
In 2019 Vee served as a Delegate to the Leadership Assembly for SEIU Local 73. Her combination of creative problem solving, common-sense practicality, and real-life experience prepare her perfectly for the position of committee member of the Civil Service Advisory Board.
In Solidarity,
UIC Bargaining Committee