News
Cook County Workers Demand Economic Rights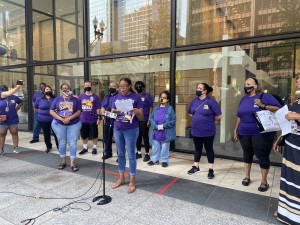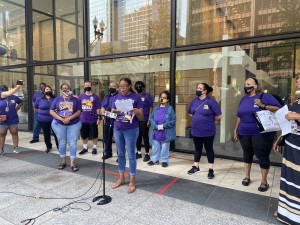 Negotiations with the County continue to move slowly due to their refusal to bargain all County contracts at one table. We understand that balancing the budget on the backs of County workers fails to provide Cook County with the services needed, especially during the growing pandemic.
Our Union is committed to fighting for an agenda that protects workers and improves our job and economic security. We've argued against an austerity budget and for a budget based on community needs. We've proposed real protections in the face of the latest COVID surge, including enhanced pandemic pay.
And this week, we made the following proposal for economic rights for SEIU Local 73 members:
Equal Pay for Equal Work

Workers doing the same jobs should get the same pay across the County such as Building Service Workers and Janitors or CRW I's and CRW II's
SEIU Local 73 members should receive the same shift differentials, weekend differentials, on-call pay, and educational benefits as our sisters and brothers in the Nurses' Union – these differentials and benefits are not based on our job titles but on that fact that we have lives and families.

Place Workers on the Right Step based on years of service and professional experience
Reward Longevity by increasing the pay of long-term workers
Fair raises every year for every worker to make up for years of substandard pay increases
These are demands worth fighting for. That's why it is time we send the County the message that we don't intend to back down. Let them know we are prepared to take the action necessary to put workers and the communities we live in and serve at the top of the list of County priorities.
Last night we held a Tele Townhall for members to answer questions about negotiations. Thank you to everyone who was able to participate. If you have additional questions, please contact us or a member of the CAT team.
The next bargaining session is scheduled for November 20, with the County Clerk's Office and November 25, with the Sheriff's Office.