News
Unions Demand Decisive Action From Cook County Criminal Justice System To Protect Workers Against Threat of COVID-19 
SEIU Local 73 and National Nurses United demand Cook County drastically reduce jail population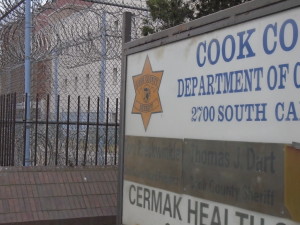 SEIU Local 73 and the National Nurses United (NNU) represent nearly 300 workers in the Cook County Department of Corrections and more than 300 professionals, nurses and other frontline healthcare workers in Cermak Health Services, who provide health care to Cook County detainees. Earlier this week, a Cook County Correctional Officer tested positive for COVID-19. This week, it was also announced that it spread to at least 17 unknown cases among detainees. SEIU Local 73 and NNU demand that Cook County's criminal justice system stakeholders—including Sheriff Tom Dart, Chief Judge Timothy Evans, and Presiding Judge of the Criminal Division Leroy Martin–take decisive action to protect workers, detainees, and our communities against the threat of COVID-19 by drastically reducing the Cook County Jail population. 
So far, Sheriff Dart has worked with our Unions to identify essential and non-essential workers within the Department of Corrections, arrange for working from home opportunities where appropriate, put symptomatic workers on paid leave, and, at the behest of Mental Health Workers, replace group therapy sessions with only vital individual therapy sessions. Chief Judge Timothy Evans has also taken action to postpone criminal and civil court cases for 30 days in response to COVID-19.  While these are important steps, they do not go far enough to protect all of us from the threat of COVID–19. Indeed, Cook County must drastically reduce the jail population by taking the following steps: 
Release all persons who are confined on any non-violent, low-level charges, particularly those deemed 

bailable

 but who cannot afford it;

 
No new people being admitted to the jail unless they are believed to be a safety risk to the community. Los Angeles County is setting the precedent by reducing arrests and releasing detainees early to reduce the impact of the spread of COVID-19; and,

 
Compassionate release for detainees over 65 years old or are immunocompromised and do not pose a safety threat.

 
Jails and prisons are particularly susceptible to the spread of infectious diseases due to the close proximity of inmates, constrained movement, the difficulty of providing adequate health care, and the lack of cleaning and hygiene supplies. Responses to outbreaks tend to be "lockdowns" and limiting visitation, however, isolation is punitive and further endangers detainees. Additionally, jails are pervious systems with the processing, detainment, and release of those suspected of crimes. Workers, too, go between the Jail and our communities, all of which can help further the spread of COVID-19. Furthermore, many Jail workers reside in the same South Side and West Side communities as the majority of those detained, some of Cook County's most vulnerable communities. Indeed, jail health is public health. Therefore, SEIU Local 73 and NNU demand the drastic reduction of the Cook County Jail population in order to reduce the impact of COVID-19.