News
University of Chicago Medical Center: Tentative Agreement Reached
The b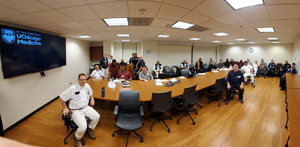 argaining committee sat down with management on January 23 and 24, 2020. We made a lot of progress in these two days and ended up getting a Tentative Agreement!
Here are some of the victories:
An increase in the reimbursement for safety shoes for ALL job classes
Supply Chain will get new uniforms and have input on a new color for uniforms
A significant increase in shift premiums
2% raises across the boards
Reimbursement for vacation expenses if UCMC cancels your vacation due to an emergency when you have a vacation planned
Preserving the right to file grievances electronically
Adding Painters to the language around overtime
We ended up walking away from the proposals on having a schedule of four 10 hour shifts because there were simply too many questions and a lack of consensus among the affected union members. There will be no change to shifts.
We fought off takebacks of the following:
Management blocking people with discipline on their records from applying for promotions
Paying overtime ONLY on hours worked—thereby eliminating the ability to work overtime when you have vacation or holidays

The compromise preserved the right to use overtime when you have used vacations

Blocking someone who failed a test from re-taking it within twelve months of the failed tests
Threats of reducing sick time to 5 days annually
Requiring 6 weeks notice for vacation requests
Requiring members to use up all vacation and sick time before using Short Term Disability
We will be meeting again on 23rd and 24th for further discussion, and the ratification vote will be held on the 31st.
Ratification Vote Details
When: Thursday, January 31st from 6:30am – 4:30pm
Where: Room H103
If you cannot vote in person, please email ETowell@seiu73.org.
If you want to hear more about bargaining, please reach out to someone on the Bargaining Committee.
Ron Dube
Brent Fitzler
John Krotiak
Vincent Muhm
Robert Carson
If you have any additional questions, reach out to a member of the bargaining committee or to your union rep, Elizabeth Towell at (312) 588-7400 or etowell@seiu73.org.