News
Campus Resistance Spreads Across Chicago!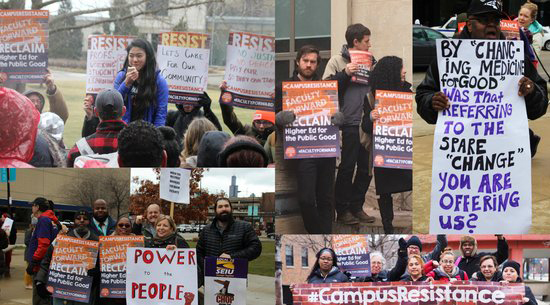 Higher education workers across the country – including Hyde Park, the Medical District, and the far north side of Chicago- came together March 1 to show their determination to fix our broken higher education system.
Contingent faculty at the University of Chicago came together to fight for affordable healthcare. "I'm standing up to fight for the day all UChicago instructors have access to healthcare," said Jason Grunebaum, senior lecturer in Hindi. "We work next door to a world-renowned hospital on our campus, yet we're unable to use those facilities unless we purchase exorbitantly priced health insurance plans."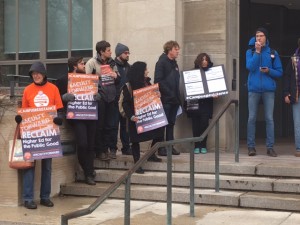 Members from the UIC Customer Care Center started the day of Campus Resistance with an early morning picket and rally to demand respect and dignity on the job.
A few hours later, UIC employees in the Clerical, Professional, Service and Maintenance, and Technical bargaining units joined with allies and other workers on campus to demand fair wage increases to pay rent and provide good lives for their families.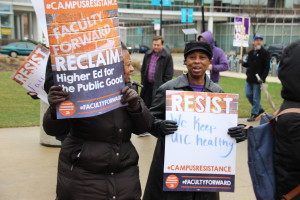 Contingent faculty and graduate student workers at Loyola University Chicago capped off Campus Resistance in Chicago with a rally and march to the Provost's office in the middle of a snow storm to demand that Loyola's Board of Trustees respect non-tenure track faculty and graduate student workers right to be a union.