News
We Are With You!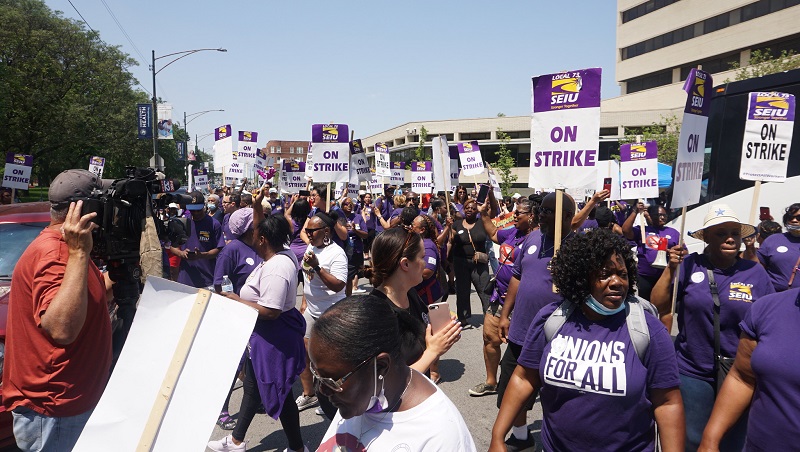 Labor unions, public officials, faith leaders, and community organizations all came out to Provident Hospital today to stand with striking Cook County workers.
"On behalf of the 25,000 members of the Chicago Teachers Union, who make schools and every neighborhood in the city work, the people who have lived through a pandemic, I bring greetings of solidarity to the members of SEIU Local 73," said Jesse Sharkey, President of CTU Local 1. "Our union continues to support the people who do the most important work in Cook County. The clerks, the transport workers, maintenance, healthcare professionals, and more. You have the support of all the teachers in the City of Chicago."
"If there is a democratic party that proclaims to be for working people there is no way we should be on Day 12 of this strike," said Stacy Davis Gates, Vice President of CTU Local 1. "You depend on us to pass petitions and knock doors for you. We are demanding dignity in this contract for every woman working for Cook County. The dignity of a raise that respects their hard work."
"On behalf of President Reiter and Secretary-Treasurer Villar, the Chicago Federation of Labor stands with you," said CFL Chief of Staff Nora Cay Ryan. "People need to understand this is a fight for everyone in Cook County because you are the ones who protect them. We call on the County to settle this strike."
"Your fight is our fight! We want Toni Preckwinkle to know that we got your back," said Tom Balanoff, President of SEIU Local 1.
"SEIU HCII represents 30,000 members and we stand with you today, tomorrow, and forever," said Greg Kelley, President of SEIU HCII. "My first job out of college was working for the Cook County Clerk's Office. 25 years ago we unionized and you are the legacy of that union."
National Association of Letter Carriers Branch #11 President Mack Julion and American Postal Workers Union Chicago Local President Keith Richardson were on hand lending their support for the workers.
"You are the reason we are surviving right now and you deserve to see that in your paycheck," said State Rep. Lakesia Collins (D-9). "As the state representative of this district and a former nursing home worker, I am standing with you until you get everything that you deserve."
"Time after time, we have seen our essential workers promised hazard pay and a fair contract, but when the time comes to negotiate, all of those promises are broken," said Byron Sigcho-Lopez, Alderman 25th Ward. "All of those public officials, who claim to support labor unions, who claim to support the workers, who claim to be for fair contracts, are not there. We must honor the sacrifice of these workers. We need a fair contract and we need it now!"
"Every day that Cook County keeps us on the strike lines our numbers get bigger and bigger," said Dian Palmer, President of Local 73. "It's because each one of you matters. Each one of you deserves a living wage. Each one of you deserves dignity and respect on the job."
"We're going to take it to President Preckwinkle's neighborhood. We want her neighbors to know. We want everyone to know why we are on strike."
Workers went into Hyde Park after the rally to flyer the community in and around Preckwinkle's Hyde Park home and speak with the public about why Cook County workers have been on strike for 12 days.