News
Cook County Denies Local 73 Members the Same Offer to Other Unions!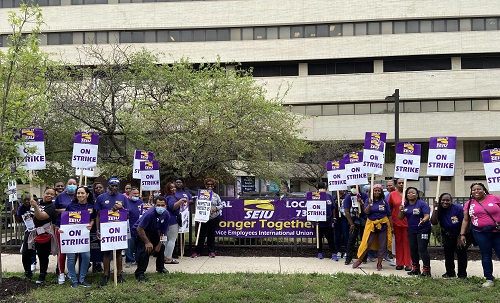 Yesterday, Toni Preckwinkle's negotiators made their final offer to our members. What they failed to tell us is that they gave the other unions additional increases on their steps. That was our proposal before our strike and every day after. They are denying us those increases leaving us 4% behind the other unions. This means taking thousands of dollars out of our pockets and paychecks and food out of our families' mouths!
The County could have made this offer last week and they chose not to. We have to be strong! That 4% would apply to every worker at every job in Cook County. Toni Preckwinkle is trying to make SEIU Local 73 members second-class citizens!
We will hold a Countywide Rally downtown in front of President Toni Preckwinkle's offices today from Noon-2pm! We will have buses at Stroger, Provident, and County Jail starting around 10:30 am to bring members downtown.
12:00 pm – 2:00 pm
Downtown Rally Outside Preckwinkle's Office
118 N. Clark St.
Speakers begin around 12:30 pm
Don't forget to check in at your strike location every day in order to qualify for the Strike Hardship Fund. Click here to view the policy. We will email the application form on Friday, July 2, 2021. Please contact hardship@seiu73.org with any questions. Anyone interested in contributing to the fund may do so here.
Come join your Local 73 sisters and brothers to show Toni Preckwinkle what we're made of. We are 73!
Upload your strike photos here.
You can view the latest information on Cook County Bargaining on our website.