Latest News
Cook County Contract Update
Our union has taken every step necessary to move our contracts forward to secure retroactive pay raises, and the $3,000 in signing bonus and pandemic pay. BHR is currently securing the signatures of all County elected officials so the contracts can go before the County Board. Once our contracts are confirmed for the County Board meeting agenda in writing, we will send an update to the membership.
As for interest arbitration, all briefs have been submittes and we expect a ruling in January on
Increasing pay and shortening the scale for facilities management and CCH maintenance workers
For all others, increasing pay for workers with 10 or more years service.
We know this has been a long fight for all of us. When the County Board votes it will be more than a year since our contract expired. And nearly one year since our strike last December when we let Cook County know we were serious.
Our fight won't end until the arbitrator rules and increases the pay of senior employees and low wage workers to raises that we deserve, are comparable to what other unions received, and also keeps us ahead of the cost of living.
Cook County Director of Labor Relations Misleads Commissioners on Local 73 Contracts
Cook County Contract Delays Continue
Cook County Contract Ratification
Members Overwhelmingly Ratify Cook County Contract
Striking Cook County Workers Win Tentative Agreement On Most Issues!
Bargaining into the night, but ready to keep fighting in the morning!
Local 73 Takes The Strike to Taste of Chicago With More Support Than Ever Before!
Candlelight Vigil in Hyde Park Brings Passionate Testimonies from Workers
Two Weeks and We're Still Fighting!
Workers Shut Down Preckwinkle's Office
Faith Leaders, Chicago Unions Call on Preckwinkle to Settle Cook County Strike
Cook County Strike Continues as County Negotiators Attempt to Nickel and Dime the Workers
Political Support Grows for Cook County Workers on Strike
Cook County Workers Turnout in Force at Preckwinkle's Office Building, Fundraiser
Cook County Denies Local 73 Members the Same Offer to Other Unions!
Preckwinkle Offers No Raises to Cover Massive Health Insurance Increase
Cook County Strike Continues, Preckwinkle Refuses to Bargain
Toni Preckwinkle's Choice: Settle the Contract or Own the Strike
County Economic Proposal Amounts to Massive Pay Cut!
Thousands of Cook County Workers, Nurses Ready to Strike
County Brings No Economic Proposals, Delays Bargaining Until Mid-June
CCH: Time To Do the Right Thing
No more waiting. Now is our time to seize the moment.
We Won't Let CCH Negotiations Become The NeverEnding Story
Resolving Complex Issues in Cook County Health Negotiations
Cook County Sheriff's Office Negotiations Back on Track
Cook County Health Negotiations: A Tale of Two Stories
Clerk's Office Negotiation Focus on Overtime and Transfers
Sheriff's Office Rebuffs Sexual Harassment and Flextime Proposals
Sheriff's Office Negotiation Move Backward
Specialists Announce Intent to Strike
Turning Point Reached in Cook County Health Negotiations
Significant Progress in Sheriff's Office Negotiations
Resetting the Labor-Management Relationship at OUP
Steady Progress in Cook County Clerk's Office Negotiations
Cook County Turns a Deaf Ear Toward Our Efforts to Improve Patient Care
Cook County Sheriff's Office Negotiations Continue to be Positive
Substantive Discussions in Sheriff's Office Bargaining Leads to Progress
Let's Make CCH a Provider and Employer of Choice
Cook County Bargaining Continues
HSA of Cook County Lends Support to Striking Workers
'Respect Us, Protect Us, Pay Us' Demand SEIU Local 73 Cook County Members During One-Day Strike at Hospitals, Jail & Clerk's Offices
SEIU Local 73 Cook County Members to Strike, Demand County 'Respect Us, Protect Us, Pay Us'
Local 73 Informs Clerk Yarbrough Threatening Workers is Illegal
Strike Postponed Through Thursday Due to Judges' Request
Cook County Spends Millions on Strikebreakers
County Clerk Yarbrough Threatens Union Members
Progress in Sheriff's Office Negotiations
SEIU Local 73 Files Unfair Labor Practice Charges Against Cook County
Cook County Members Overwhelmingly Vote to Strike
Cook County Workers Demand Economic Rights
We're Putting the Pressure on Cook County Management
Cook County Management Threatens to Walk Out on Negotiations
A Message to Cook County Board: No More Politics Over People
Cook County Clerk's Office Plans on Laying Off SEIU Local 73 members. We're Not Going to Take It!
Cook County Recorder of Deeds Workers Deliver Petition to County Clerk Karen Yarbrough's Office to Save Jobs
Strike Media Coverage

Strike Hardship Fund
Click here to contribute to the Local 73 Strike Hardship Fund.
Click here for the Local 73 Strike Hardship Fund Policy.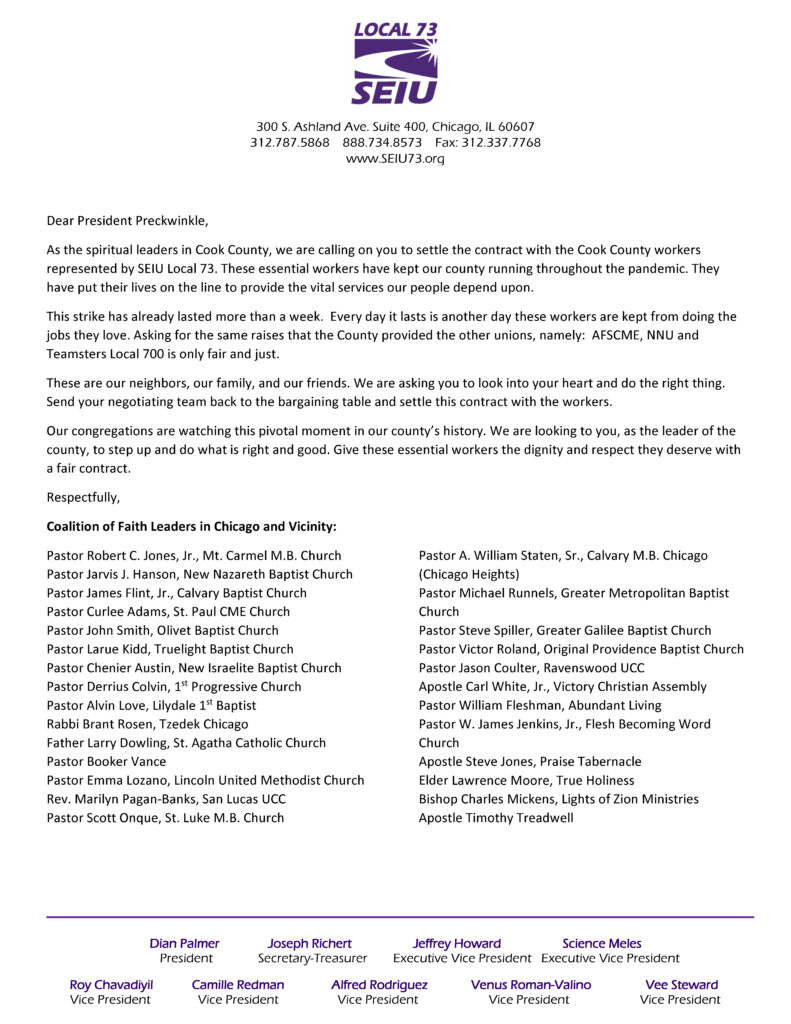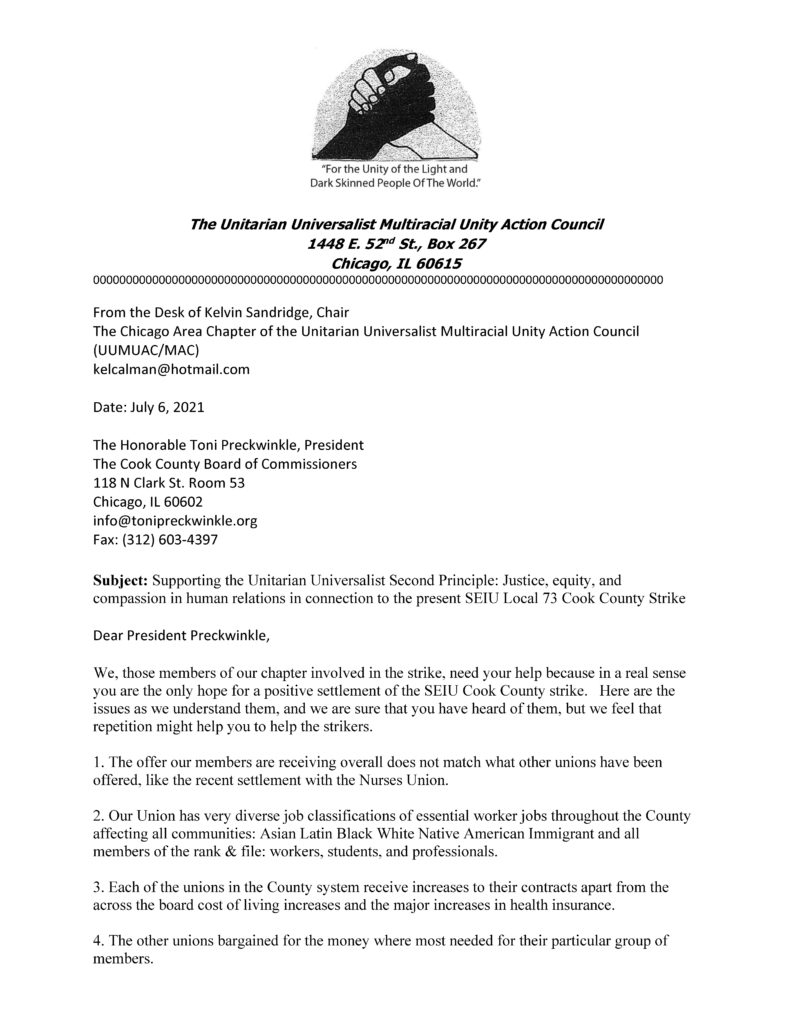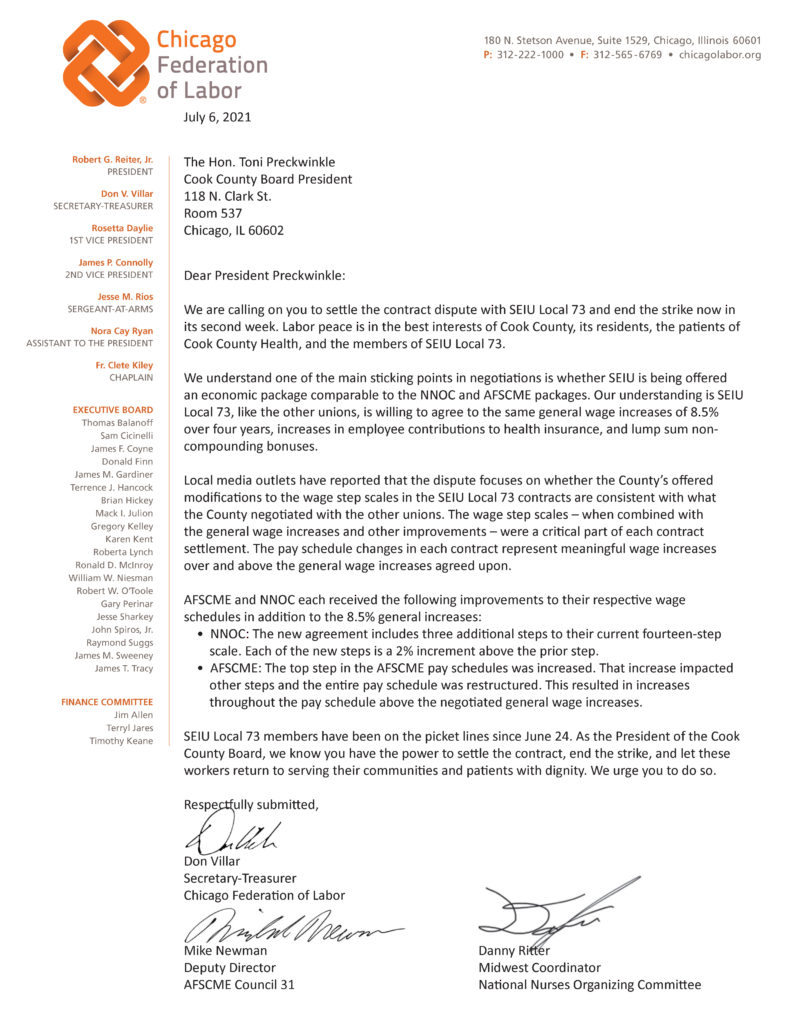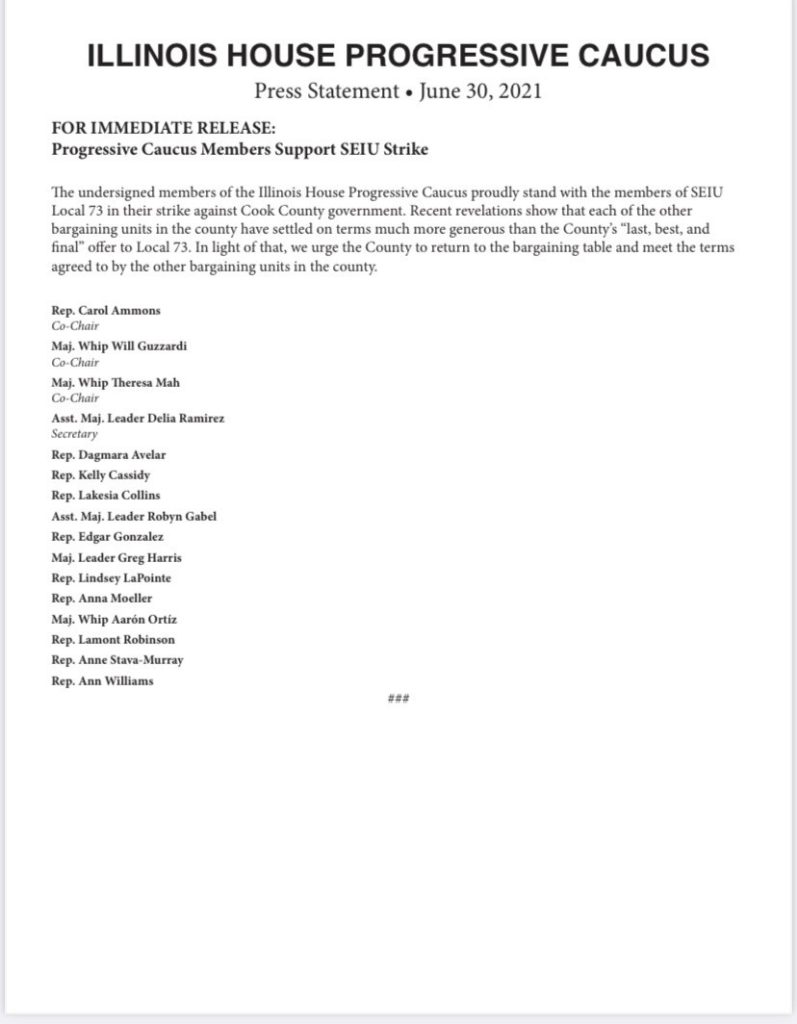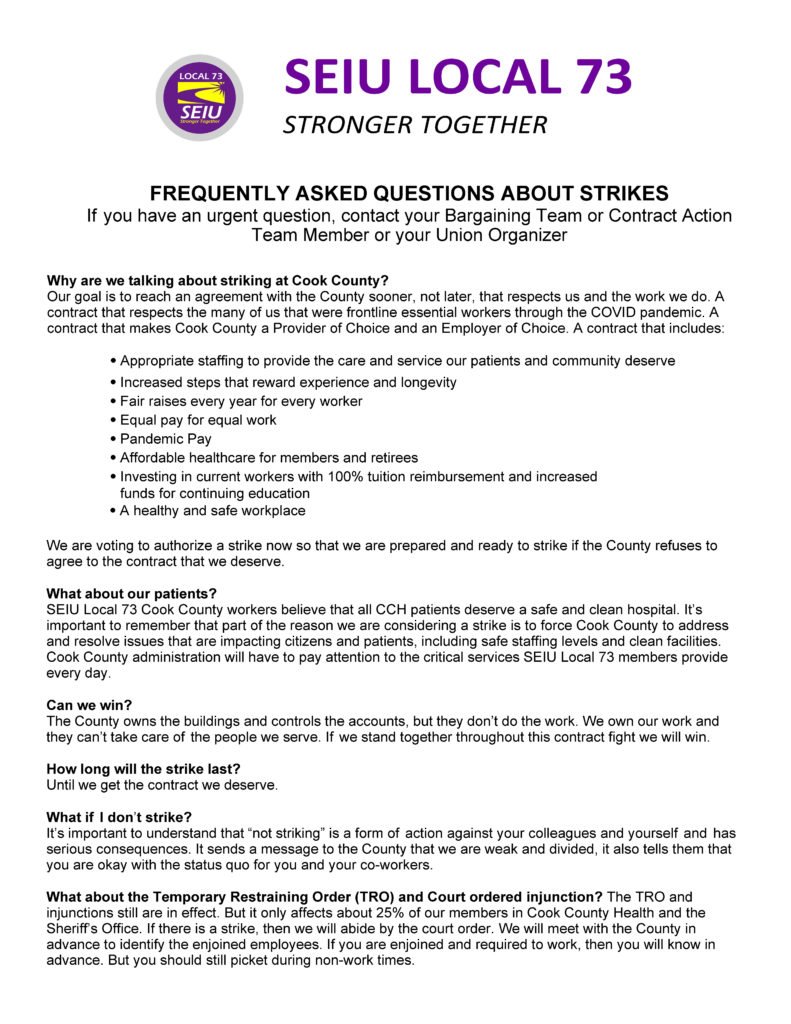 ---
We streamed and posted video and photos on Facebook throughout the strike.
---
---