SEIU Local 73 represents more than 31,000 workers, primarily in public service and publicly funded positions in school districts, municipalities, social service agencies, and many other job classifications in Illinois and Indiana. SEIU Local 73, in conjunction with the SEIU Illinois State Council, conducted an endorsement process to determine which candidates best support working families' issues and merit our endorsement for the 2023 election. You can review the Municipal Candidate Questionnaire here.
Congratulations to all of our winning candidates!
Chicago Mayor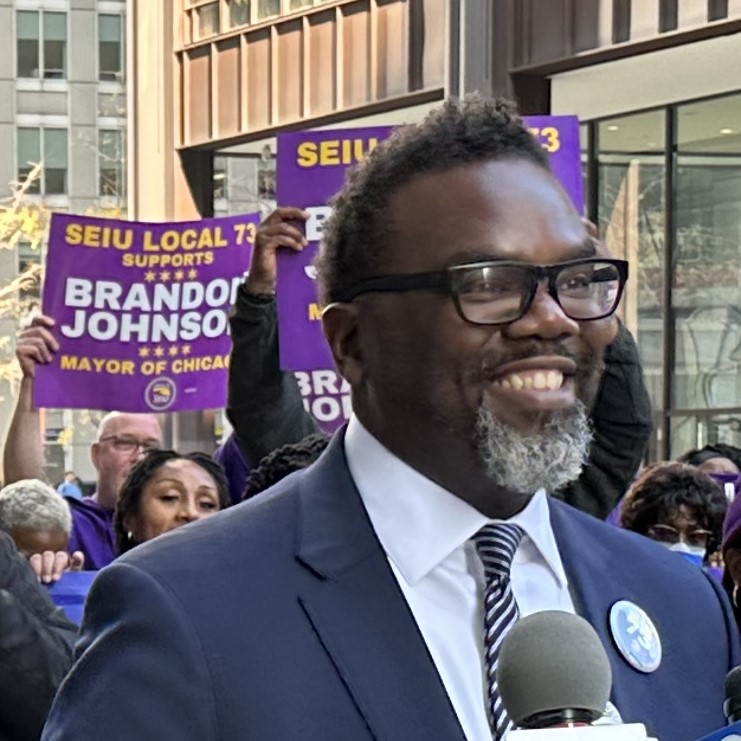 Brandon Johnson
Mayor of Chicago
Brandon Johnson has been a strong advocate for union members in Cook County. In 2011 Brandon joined the resurgent Chicago Teachers Union as an organizer. Brandon helped to organize the monumental 2012 CTU strike and fought against the onslaught of closings and privatization in Black and Latinx schools. In 2015 Brandon led field campaigns that forced an historic mayoral runoff and 18 aldermanic runoffs in the city of Chicago. Most recently, Brandon has coordinated coalition campaigns with parent and community organizations to pass state legislation for an elected representative school board, stronger oversight of private charter operators, restoring collective bargaining rights for teachers and an elimination of tax breaks and slush funds for the 1%.
Daniel La Spata – 1st Ward
Pat Dowell – 3rd Ward
Lamont Robinson – 4th Ward
Desmon Yancy – 5th Ward
William Hall – 6th Ward
Greg Mitchell – 7th Ward
Michelle Harris – 8th Ward
Nicole Lee – 11th Ward
Julia Ramirez – 12th Ward
Jeylú Gutiérrez – 14th Ward
Stephanie Coleman – 16th Ward
David Moore – 17th Ward
Derrick G. Curtis – 18th Ward
Matthew O'Shea – 19th Ward
Ronnie Mosley – 21st Ward
Michael Rodriguez – 22nd Ward
Silvana Tabares – 23rd Ward
Byron Sigcho-Lopez – 25th Ward
Jesse Fuentes – 26th Ward
Jason Ervin – 28th Ward
Chris Taliaferro – 29th Ward
Felix Cardona – 31st Ward
Scott Waguespack – 32nd Ward
Rossana Rodriguez – 33rd Ward
Bill Conway – 34th Ward
Carlos Ramirez-Rosa – 35th Ward
Emma Mitts – 37th Ward
Andre Vasquez – 40th Ward
Angela Clay – 46th Ward
Matthew Martin – 47th Ward
Maria Hadden – 49th Ward