73 Empowered Slate
We Are One – 73 Members Slate
73 Rising Slate
President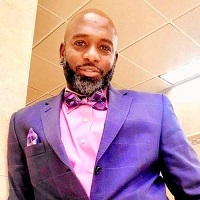 Tyrone De'Andre Hawthorne
I am a 28 year Healthcare Hero at cook county Stroger Hospital. A community activist, mentor, poet, (Blaq Ice) and a SEIU union steward who has fought for our members over 20 years. For 31 years I have worked with CPS, bringing mentorship programs into the schools, preventing suicide, drug abuse and young people joining gangs. All the experience has prepared me to lead. I have heard the frustrations of the membership and have accepted the call to bring better leadership to our local. Our members are tired of having a union that they never see or hear from. As your President I will bring change, transparency and make sure your voices are heard.
It's time for our own members to lead our own union. I know how it feels to deal with disrespectful management. Do you feel like your union doesn't fight for you? Vote for me and help me change leadership to someone who will put your interest first. Learn more about me and our slate at www.weareone73.org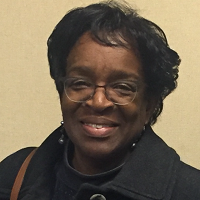 In 2016, I became one of the trustees of Local 73. Our goal was to correct any deficiencies and restore Local 73 to self-governance. After careful review, we saw the breadth and depth of the problems and the damage to our reputation with communities and employers. I heard the anger in the voices of members and the defeat in their eyes. I vowed nothing would keep me from the goals of the members.
Our team has secured some of the best contracts in the public sector. We have struck three of the largest employers in Chicago! In Chicago Public Schools we won salary increases for Bus Aides, Custodians and Special Education Classroom Assistant's salaries. At Chicago Park District we raised the wages of part-time workers. At University of Illinois Chicago we secured market wage adjustments increasing some wages by 20-30%. We secure full health insurance for all Chicago Crossing Guards. And in Cook County we held a successful 18-day strike and are arbitrating increased wages for all Cook County workers!
Since 2016, we have worked hard to restore the reputation of Local 73 and bring dignity to all of our members.
Secretary-Treasurer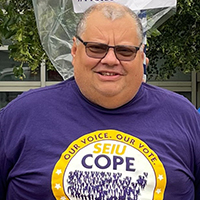 I have been a part of SEIU for 37 years, starting as custodian in Cicero School District 99 and member of SEIU Local 11 where I served for 16 years before joining the Local 73 staff in 2000.
Shortly after Local 11 merged with Local 1, I was involved in their Member Organizing Committee. During that time, I also attended and graduated from the DePaul University Labor Education Program to further my education in organized labor.
I was one of the seven Local 1 members that negotiated the merger of the public sector members from Local 1 into Local 73 in the late 1990s. During the last 21 years, I've served several roles in Local 73, including organizer, union representative, assistant division director, director, and vice president. I am proud to represent members throughout Local 73 across Illinois and northwest Indiana. Growing up, I earned the rank of Eagle Scout, and the values, skills, and lessons I learned have been an asset as a union representative. I have always tried to go above and beyond to represent members the way that I wanted to be represented when I was a member.
Executive Vice President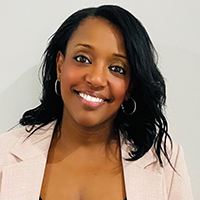 I have been a member of the SEIU Local 73 family for over 13 years, as an organizer, business representative, assistant director, division director and now Executive Vice President of Chicago Public Schools/Northwest Indiana and the Member Action Center representing over 10,000 members. As director and Executive Vice President, I was able to mobilize and organize our CPS members to action and win a historic contract that has empowered workers throughout our city. In addition, I worked to empower our Northwest Indiana units that felt the Union neglected them by winning raises/benefits. Furthermore, I worked to train and educate our members, while leading the Member Action Center to be a place where our members can get their issues addressed.
My entire career has been dedicated to improving the lives of members of Local 73 and the labor movement.
I am a firm believer that it is through organizing, engaging members in their union and taking collective action that workers can have sustainable and fair wages/benefits.
It is together that we can win and build power for our members. I humbly ask for your vote for Executive Vice-President and for your support of the 73 Empowered SLATE.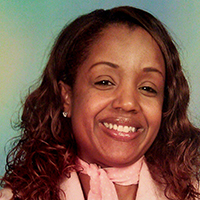 I am running for Executive Vice President of SEIU Local 73 because I will bring diversity, transparency and strong leadership to this union. I am a firm believer of the saying "UNITED WE STAND, DIVIDED WE FALL", and that is what I would like to prevent if elected into office. My focus is to bring to SEIU Local 73 the leadership that has been for so long missed and much warranted. I will work and advocate for fair contracts, safe work conditions, more steward training, protect health benefits, making sure the members are having site visits, answering emails as well as an effective call center, If chosen to be the Vice President for SEIU Local 73.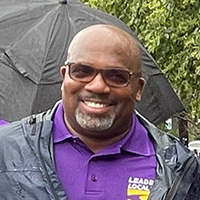 I am a third-generation union member with over 29 years of experience serving in all levels of leadership in the union movement. I have proudly served as Executive Vice President of SEIU Local 73 for the past 3 years.
I am a proud veteran of the US Air Force. In my Union career I have served in many different capacities from shop steward to Secretary-Treasurer of a 55,000-member local, and have worked for three different unions. Those experiences have helped shape my values and taught me how to be an effective leader and advocate for workers. I have put those skills to good use here at Local 73, as we have waged an aggressive agenda fighting and winning for our members.
Outside of my work, I received a bachelor's degree in Union Administration and Leadership from the National Labor College, and am the proud father to four successful children.
​I believe in the power of unions. I want to continue to help lead SEIU Local 73 with power and purpose. We need to continue innovating, inspiring, and igniting our brothers and sisters in the struggle for workplace and social justice.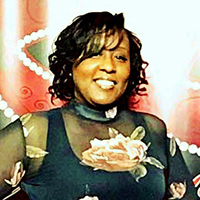 Amanda has been a union member for over 25 years. She is an administrative assistant union steward in training and CAT Member. Amanda was a pivotal part of the Cook County negotiating team. Amanda believes, (in order for anyone to represent the members they must first walk in their shoes and understand our plight).
Amanda is currently working for the Cook County Sheriff's Police Department. She has represented numerous members under the Sheriff's Department with positive outcomes. Amanda has been organizing in the community for over 15 years. She is a trustee at Zion Lutheran Church, sits on the board of William H. Griffin Community Center, a member of Jack and Jill of America-Magnificent Mile, as well as the former chairwoman of Murray Language Academy Local School Council where she help create a restorative justice program. Learn more about me and my slate at www.WeAreOne73.org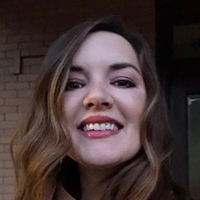 I am an experienced organizer that has led SEIU 73 members into struggle across numerous campaigns. Since becoming the Organizing Director at SEIU 73, I have directed staff, developed campaign strategy, executed actions and stood with SEIU 73 members during our historic contract wins at CPD, CPS, UIC and at Cook County. I recruited and trained staff to rebuild our external organizing department and organized one of the first bargaining units nationally after the lockdown. I built and directed an innovative online member recruitment program that recruited over 1,000 members in three months and saw other SEIU locals adopt my program. I implemented a rigorous staff development program so that all local staff are well-versed on the technical aspects of winning power at the work site. I strengthened relationships with other unions and community organizations to work in solidarity with us.
I am passionate about building worker power and collaborating with partners to fight for fully funded public services and communities across Illinois and Northwest Indiana. Let's continue building Local 73 into a fighting union focused on member leadership, transparency, communication, and winning real gains for working people.
Vice President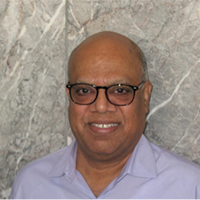 I was born in India and immigrated to the US. I completed my Masters in Science at Kerala University, India. After arriving here, I received my diploma in Radiology at the Cook County School of Radiology and later completed my certificate program in Cardiac Interventional Technology at the College of DuPage. Currently I am working in the Cath Lab at Cook County Hospital as a Cath Lab Technologist.
I am serving as Chief Steward for technician and technologist contracts. I represented our brothers and sisters in many grievances and have provided successful outcomes. I will continue to serve our brothers and sisters. I've served on many committees in the union such as the political engagement committee, the immigration committee, and the constitutional committee. I've been a negotiation team member and I am currently the Midwest regional chairperson for the SEIU API caucus.
I've participated in organizing many activities for the union. The most important one was the Core Center campaign where we unionized core center employees and successfully organized a strike, resulting in improved working conditions and wages. I promise to you all, I will continue to work harder and improve our union in the days to come.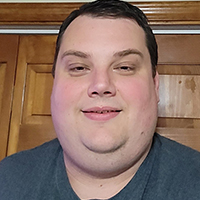 My name is Alan Jones, I am a Teletype Operator with the Illinois Secretary of State Department of Police and have worked for the Secretary of State's office for 12 years. I am a Volunteer Firefighter, Athletic Coach, Father and Grandfather. During these 12 years as a Union member, I have been a Steward, Chief Steward, Executive Board Member, and have sat on the Bargaining Committee for the past two contracts. I have fought hard for our union brothers and sisters and have worked tirelessly to educate members and management about Union issues and concerns. I have worked hard to make sure that all matters come to a satisfactory resolution and I will continue to be a voice for the downstate members, while working diligently for all members. Vote for the 73 Rising Slate!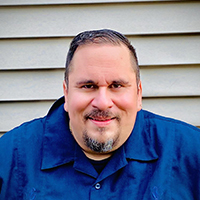 I have been a dedicated Special Education Classroom Assistant with Chicago Public Schools (CPS) for 17 years and currently work at Northside Learning Center High School. I have served as a union steward with Local 73 for about nine years. I am a committed member of the CPS Contract Action Team and was a strike captain at his school for the 2019 CPS strike. I was proud to serve as a crucial voice on the Committee of the Future that helped pave the structure for a new Local 73. When I'm not in the classroom with my students, I'm assisting in the annual Special Olympics. Your vote will make the difference in the future of Local 73. Please vote for the 73 Rising slate so our union can continue to grow and strengthen and be a voice for all members.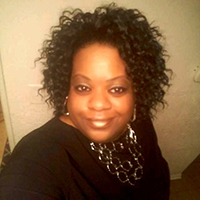 Barbara Watt has been an employee of Cook County health for 28 years. She began her career at Oak Forest Hospital and currently works at Blue Island Health Center, in the pharmacy department. She became a steward for Seiu 73 because she was tired of the lack of respect and felt that people deserve to be treated with dignity and respect no matter what kind of situation they were facing. Barbara has put in a lot of time and loyalty, into the Seiu organization, even when she didn't approve of the direction that the organization was going.
As a 20 year Steward, she he has been both, SEIU's biggest supporter and toughest critic. Barbara diligently works as a daughter of the king and the shepherds ministry at Triumphant City Church of Chicago under the leadership of Pastor Vessel Stubbs. She loves caring for people and with your support she would serve as a great vice president of this union because she stands for people's rights. Learn more about me and my slate at www.WeAreOne73.org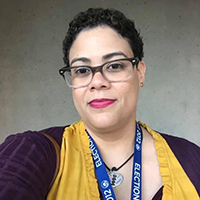 I'm a 20+ year employee with the Chicago Park District. I love my job but noticed working conditions diminishing throughout the years. I decided to become involved in the union to help my fellow coworkers empower themselves. We started to organize and overwhelmingly approved a strike in 2019. I helped lead Chicago Park District workers to win an historic contract. I will continue to fight for not only Chicago park district workers but every worker at local 73. I urge all members to vote for the 73 Rising slate so we can keep our union moving in the right direction.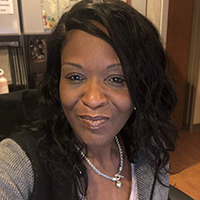 I have been with UIC for 15 years and am a proud SEIU Local 73 member. I currently serve as a Chief Union Steward and Bargaining Committee member at UIC and as Vice President on the Local 73 Executive Board. I was a Contract Captain during the 2020 UIC strike campaign. I was elected to the State Universities Civil Service Advisory Board and served on the Staff Advisory Council SAC.
I am truly committed to change and will continue to fight and use every platform available to demand equality, dignity and respect for all Local 73 members.
I believe that there is strength in unity and when we come together, change happens. I believe if you see something, you should say something. I believe sometimes people are afraid to say something and that is why I have volunteered to give voice to the voiceless. As a current member of the 73 Rising Slate, we are committed to the fight and we will build on what we have accomplished over these past years in solidarity. We will use our power to hold UIC and all employers accountable and demand RESPECT. What this administration has accomplished is only the beginning.
Executive Board
Region 1 – Chicago Public Schools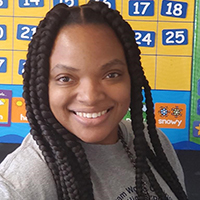 I work as a CPS SECA at Christopher School and as an inclusion aide with Chicago Park District and a member for 6 years. I am running for an Executive Board Member seat because members should be heard. I reached out to President Dian Palmer in the hopes of getting some clarity about some issues that were taking place at our local. President Palmer just brushed me, my thoughts and opinions off with no consideration and acted as if I was irrelevant. This was wrong! As dues paying members, we should be heard and respected, and not have to feel like the only way to be heard is to be in a position of power. I will ensure our union is being ran by competent, trustworthy, and honest leadership, who have their members best interest, and not their own at heart. I will always fight to empower and make sure all sectors are given the respect they deserve. We, as members, are the union and it needs to be us that hold our leaders to their promises. I humbly ask for your vote for the CPS Executive Board Member and for your support of the 73 Empowered SLATE.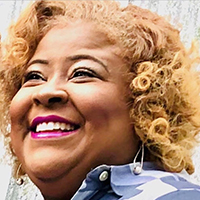 Who are we? "73!" We come to Win!!!
I am Kim Akins, CPS SECA for 12 years. I am an Elected Executive Board Member, bargaining committee member and steward. Our team worked tirelessly to win our current historic contract. Together, we will work to build on what we started in 2019 and fight for a contract that improves the lives of all of my sisters and brothers in CPS. Vote the 73 Rising slate so we, as a team, can continue what we have started. I am humbly asking you again for your support and thanks in advance for allowing me to represent SEIU Local 73 purple and gold.
I work as a CPS SECA at Christopher School and a member of Local 73 for 7 years but involved with SEIU for 11 years. I am running for an Executive Board Member seat because I believe in fairness, transparency and equality for all.
I believe that all members regardless of which unit they come from small or big should feel empowered to raise their issues with the leadership of our union. This is the members union and as such the leadership should take members input on the issues that affect us seriously. I became involved during the CPS contract fight and I like most other members had finally felt empowered, that this was a member driven union but to only be let down by the lack of transparency from some of our current leadership. I will always fight to empower members, find answers to their questions and demand transparency. Therefore, I humbly ask for your vote for the CPS Executive Board Member and for your support of the 73 Empowered SLATE.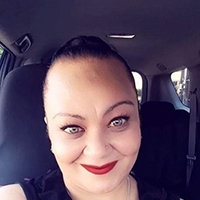 I have been working at CPS since 2006 as a Special Education Classroom Assistant. I am proud to serve as Chief Steward at Lake View HS and as an Executive Board Member for SEIU Local 73.
I am a Strong Advocate for the rights and justice of people. I will continue to fight for all of our members.
Voting for me and the 73 Rising slate will ensure that Local 73 continues to have the leadership to fight and win for all of our members.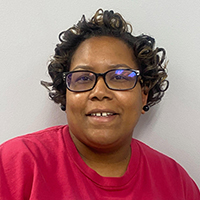 My name is Tracy J. Brown and I have worked for Chicago Public Schools since 2003 and am the union steward at Yates Elementary School. I am seeking re-election to an Executive Board Seat of my Union, SEIU Local 73. I currently sit on The Safety Committee at Yates and am on the Bargaining Team Committee for Chicago Public Schools. I also work with different organizations helping them Organize Unions in their workplaces and I have worked with The Fight For Fifteen Campaign demanding that all workers be paid at least $15 per hour. I humbly ask for your support and encourage you to vote for the 73 Rising Slate.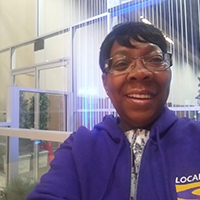 As a special education classroom assistant in Chicago Public Schools, I understand the importance of having a strong union. Under Local 73 Leadership, we waged a strike that sent a clear message to management, we are to be taken seriously. That strike led to a stronger contract with better wages and benefits for all of CPS workers. As a member of the bargaining committee we continue to work to strengthen our contract. By voting for the 73 Rising Slate, we can continue to keep our union strong and moving in the right direction. I am proud to represent CPS workers on our executive board and ask you to vote for 73 Rising!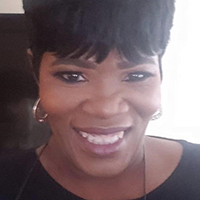 Veronica Heard has been a board custodian for 16 years, a steward, bargaining committee member, and executive board member dedicated to improving the lives of all local 73 members. She is a tireless advocate for custodians from BOMA rates, longevity pay, clearer cleaning standards to better staffing levels, Etc. Veronica was one of the key leaders during the 2019 contract fight that won historic raises. Vote the 73 Rising Slate this fall so our experienced leaders can continue to rebuild our local union into a union that betters the lives of all our members.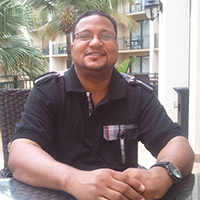 I have worked with Chicago Public School for over 30 years as a Custodian. I am a Union Steward for Local 73, and I presently sit on the Bargaining Committee representing CPS Contracts.

Previously, I worked with the Workers Organizing Committee Of Chicago (WOCC). I graduated from Corliss High School in 1985. I am a husband and father of three children.

My children and some of my grandchildren attended Chicago Public Schools. I am a people person and a team player that enjoys helping others as much as I am able.

I will work hard to represent all Local 73 members at CPS and throughout our union. I ask for your support for the 73 Rising slate.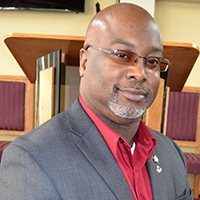 I have made protecting and fighting for other people my life's work. As a Gulf War veteran with over 30 years' experience in corporate and personal security combined, including cyber security, retail security, bank security, asset protection, executive protection, private investigations, as well as head of security for my local church.
I currently work as a Security Officer at Jones College Prep and am a union steward with SEIU Local 73. As a super strike captain, I advocated for Security Officers as well as all CPS members, during our successful strike in 2019.
As an Executive Board member I will be able to do more for our members at CPS and throughout Local 73. I am not one to back down from a challenge. Every time Local 73 has asked me to step up, I have gladly accepted and given my all.
I ask for your vote and support for myself and the 73 Rising slate. Together we secure the future for all Local 73 members.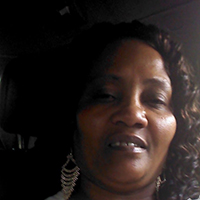 I am grateful to be a candidate for the office of Executive Board Member in Region 1. I have been a proud SEIU local 73 member for 27 years, and am currently serving as an Executive Board Member. I have served on four consecutive CPS Contracts.
I have the qualifications and experience needed to succeed in this position and represent the members in CPS. As a CPS employee (SECA) and a new nominee for this position, I will continue to strengthen, inform, and lead our members.
As an Executive Board Member, I will work alongside other members who are working for the same goals, causes, and beliefs for all our members.
I would be honored and proud to serve as one of your representatives. I am committed and dedicated to the causes at hand. I ask for your vote for re-election to the Executive Board and for the 73 Rising slate.
Region 2 – UIC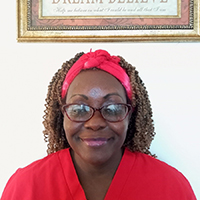 I am a Nurse Technician on 8 East Adult Psychiatry at UIC Hospital and have been working for 27 years. I have been a SEIU Local 73 union member since I started at UIC. Currently I am a Chief Steward. I graduated from Homewood-Flossmoor High School, was a cheerleader, in choir, and volunteered as a candy striper at South Suburban Hospital. I attended Robert Morris College and received an Allied Associates Degree in Medical/Dental Administrative Assistant. I was also a member of the committee of Operation Push and assisted with the Carol Moseley Braun campaign. We can continue to do great things at UIC and throughout Local 73 in this election. Vote for the 73 Rising slate!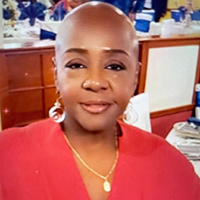 As the only child of a divorced Black woman in a middle-class neighborhood on the South Side of Chicago, I learned at an early age that Black and Brown people were treated differently than whites. I was always told you must work for everything you get. My mother was the chief union steward with the International Brotherhood of Electrical Workers (IBEW), which meant I would attend union meetings and protests with her regarding the unfair working practices of her employer. She was very outspoken and opinionated as I'm and would stand up for anyone who was being treated unfairly, especially Black and Brown people. At those meetings, I would witness employees demanding better working conditions, pay and respect from management and here we are five decades later still demanding the same rights.
So, it is no surprise that I followed in my mother's footsteps and became elected union steward. I have served on the executive board and on the negotiation team at SEIU Local 73 for over 20 years. And I have continued the fight for all workers' rights. Please support the 73 Rising Slate!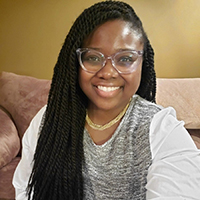 I have been a member of SEIU Local 73 for four years and served the union in a variety of capacities, concurrently volunteering my time as a dedicated departmental Steward, a Union Delegate, and as an active member of the Bargaining committee during the most recent round of negotiations at UIC. I am committed to fairness, equity, and justice and am unafraid to speak out against those in positions of power. The 73 Rising slate has worked diligently to improve organization within the union as well as establish a greater presence for SEIU 73 and its members at my workplace. I believe we can accomplish much more and look forward to continuing to work closely with these individuals. Please vote for the 73 Rising slate and together we will keep our union strong!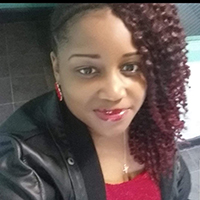 SEIU Local 73 & the 73 Rising Slate has been a HUGE part of the major changes at UIC & particularly through this contract which I was excited to be on the negotiating team. I have been proud to be a part of the Local 73 team for so many previous years as well. Vote for the 73 Rising Slate!
Region 3 – Cook County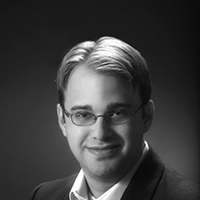 My name is Michael Barbieri, I am running for Executive Board Member for Region 3 which covers Cook County and HACC. I have worked for County for 10 years and have seen how many of you have been disappointed with the current leadership within your union. During this very long strike that could have been diverted or lessened in time if proper leadership was in place. We did not have a local hardship fund created if a strike were to happen and when it did many of you know that you received nothing or very little compensation when you were out of work.
This is very unfair to its members for a union that is supposed to represent you have failed time and time again. As a board member I will make sure that all member concerns are addressed and in a timely manner. We have been treated poorly for so long that it is time for change at the leadership level. If this change does not happen the status quo will repeat itself over and over again with no end in sight for its members. So, I ask you to vote for me in this upcoming election for change.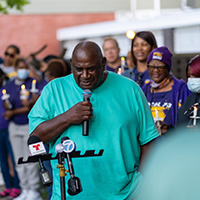 I am a civil rights activist, a Reverend, and a proud member of SEIU Local 73. I work at Cook County with my wonderful wife, Geraldine Martin. I have 3 honorary degrees along with a political science and public speaking background. I grew up in public housing in Mississippi before being expelled from the public school due to my activism. I organized with Fannie Lou Hamer and was jailed 26 times across various Southern states with John Lewis and Dr. Martin Luther King Jr.; Jackson police cracked my pelvis and damaged my kidneys for simply passing out leaflets. We went hungry, we slept on floors and we faced brutal hostility to our fight for justice. But we persevered and dedicated our lives to a brighter future for all. And I have seen progress, even here at Cook County where I have worked for decades. But progress is not absolute and the previous leadership of Local 73 let too many Employers and politicians get comfortable and take us for granted.
President Dian Palmer restored our fight for justice at Cook County and across Local 73 and I am ready to stand hand in hand with her as we continue that journey.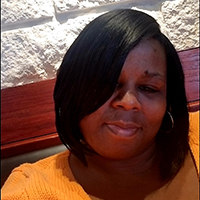 I am running for the Executive Board representing Cook County. I am an 18 year Healthcare hero who started out as a CNA at Oak Forest Hospital and I am currently working at Stroger Hospital as a Healthcare Advocate. I love a good fight, especially when it is for a good cause. I became a union steward in 2020 because our members needed a strong vocal advocate who was not afraid to challenge management.
I will bring the same passion and boldness to the Executive Board. We need someone who will hold our leadership accountable. Vote for me and my slate if you want change and new leadership. The members deserve to lead their own union. Learn more about me and my slate at www.WeAreOne73.org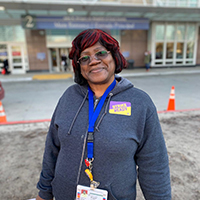 I have lived in Cook County my entire life and worked for Cook County Health for the past 23 years. Every day working and living in and near Chicago, I see the challenges working people face, whether it's high crime in our communities, high prices at our stores or under-funded public services for all of us and especially for those who simply need a helping hand. From when I was a little girl I have always been on the side of the underdogs and less fortunate and I believe that inspired me to get involved with my Union, SEIU Local 73. I have been a union steward for 15 years and am thrilled to now join the Local 73 Rising slate as a candidate for the executive board. Folks like us have always had to work twice as hard to get fair outcomes and I am ready to fight to hold our Employers, our managers and politicians accountable. When I get a chance I enjoy spending time with my husband, bowling or singing gospel and jazz music. And you can always find me teaching Sunday school each week at my church. Please support the 73 Rising slate.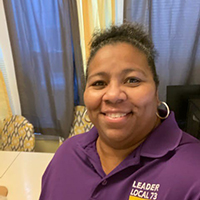 As I near the end of my 1st term as a Region 3 Executive Board Member representing Cook County Members, I am proud of the work we have done, and even more excited about the work we still have to do to build power and solidarity! I am asking for your support and vote once again. VOTE 73 RISING slate!
We are not where we want to be as a Union, but we are nowhere near where we were. We have emerged from the darkness stronger and with great hope. Our journey is not over and the next 3 years demands continuing to hold Employers accountable and building lasting solidarity across all Local 73 bargaining units.
I have worked at Cook County for over 31 years, 18 of those years as a union steward. I believe that in order to be an effective leader, I must immerse myself in the inner workings of the union and that is why I am an active member of the Finance, Political Engagement and Social Justice committees.
Being on the picket lines during our historic Cook County strike steeled my spirit and illustrated what I've always known is true: "When we fight, we win!"
Region 4 – Secretary of State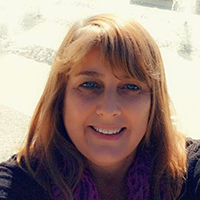 Unions are the backbone of the American working class, and it was instilled in me since birth of their importance. I want to help others experience the job security, fair pay, safe working conditions and secure financial future that we all deserve. That is why I am a part of the 73 Rising slate. Together we will keep our union strong and continue fighting for all of our members. Join us and vote for the 73 Rising slate!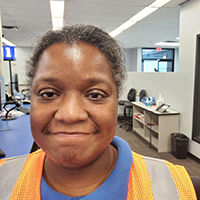 I am proud to bring my knowledge from serving on multiple other boards in multiple posts to the Local 73 Executive board. I think being on the Executive board will give me a way to serve even more members than I do now in the Secretary of State office. Our union has changed for the better under our current leadership. I know that working together we can make Local 73 even better in the future. That's why I am asking for your vote for the 73 Rising Slate.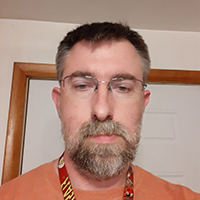 I'm looking forward to representing downstate members and keeping a voice for those that often seem left out from the goings on of the Local outside of Chicago. I will work to keep downstate members informed and bring back their opinions to keep diversity in the inner workings of SEIU. Being able to make a difference as both a steward and a board member helps to give SOS members some peace of mind knowing that they can bring me concerns that I will bring to the board in hopes that all parts of the Local can forge better paths throughout the state. Our union has made great strides under our current administration. Together we will get even better
Region 5 – Chicago Park District, Lincoln Park Zoo, Westrec, and DuSable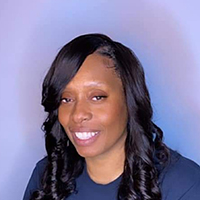 I, am Shreece Childs a good standing member with SEIU Local 73. I am a 22 year employee with Chicago Park District current as a Playground Supervisor for 8 years, and a 13 years as monthly Instructor. I have a passion for teaching and mentoring kids and young adults. The reason, I decided to run for the E- board position is because I want to make a change for all workers to have a fair share of opportunities and management with in the Chicago Park District.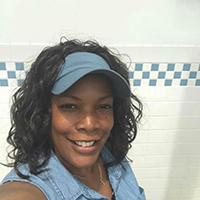 My name is JoAnn Baker. I started working for Chicago Park District in 1997. My Position was jr. Labor. Today September 2021 my position is a Labor Forman. My goal is to become operation supervisor. I enjoy teaching and uplifting my staff. I'm a great leader and I love to see people grow and improve. I've been a leader in the Landscape dept for years. I led a 200 person March on the Mayor of Chicgao to highlight the work and lack of essential needs of our department. I will continue to fight as lead for all members, and I humbly ask for your vote for me and the local 73 rising slate.
I have a five adult children the best job I've ever had was being their mother. I graduated high school. I received a certificate for CNA. I enjoy bike riding and bowling.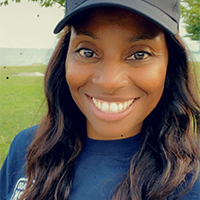 I, Wanda Norris SEIU Member in good standing since 1997, served as a union steward and member of Local 73 negotiation team, attended rallies, holiday events and political meetings. I am current Chicago Park District employee for 26 years, working in the capacity as Park Supervisor of Shedd Park in Little Village. Youth Minister of St. Thomas Episcopal Church in Bronzeville, former teacher of CPS, women's basketball and volleyball official, certified in DCFS child-care from Methodist Youth Service, Founder & Director of O.K.O.R Our Kids our Responsibility's, a youth mentoring non – profit since 2001.
As a woman of color witnessing the social, political, sexual and racial injustices in the country and primarily the workplace, there is a dire need to get my voice heard and such atrocities addressed. As a candidate I plan to commit myself to addressing the needs listed as well as serve the members without separation.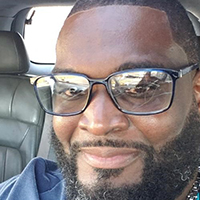 Hello Local 73 members, I am Regis Banks a 25 year attendant with the Chicago Park District. I am a proud husband, and father. I am an avid bowler and sportsman. I have been active in our union for many years as a union steward, bargaining committee member, candidate for Chicago Park District Pension Board, Chairman and member of Local 73 Political Engagement Committee and Executive board members for Local 73 region 5.
I believe in the direction of our union and its leadership. I am humbly asking for your support again for my candidacy as Executive Board Member Region 5, and to support the 73 Rising Slate as we continue to move our local to greater heights.

I, Mr. LeVandis Robinson have been an employee of the Chicago Park District for 12 years and active, good standing member with SEIU Local 73 member. I also served in the U.S. Military in the branch of the Army with 4 years of service.
I have been nominated to run as the E-Board Member in Region 5 because I can be very instrumental in this position. I have many years sitting in contract negotiations as well as a Steward in training. I can serve SEIU Local 73 as a whole greatly with my years and knowledge of working closely with other union in previous employers. Select the best slate for the job which is "WE ARE ONE 73 MEMBERS"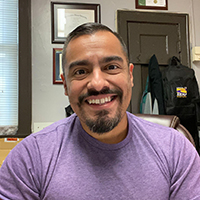 I am currently a member of the Executive Board for Region 5 Chicago Park District and an active Union Steward. I have 16 years of service along with four summers in the Chicago Park District. Currently, I am a Park Supervisor for Blackhawk Park.
In my years of service I have learned that I am an individual that believes in being authentic, fair and empathetic to all. Having these traits I decided that it was time to get involved in SEIU Local 73. My involvement in the local started with helping in the current contract negotiations to being on the committee that helped develop the criteria of the supervisor premiums.
Knowledge is power, which is why I have obtained a Bachelor's degree from Northeastern Illinois University in Organizational Development and a Master's Degree from Concordia University in Organizational Leadership.
I want to continue to help lead SEIU Local 73 by inspiring Local 73 members to stand together in the battle for equity and workplace justice. If you want to stand with us please vote for the 73 Rising slate to continue leading Local 73 into the future.
Region 6 – City of Chicago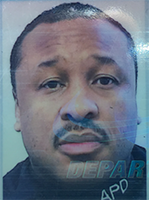 I became a Union Steward to fight for fair labor rights and practices, to be a voice for my coworkers and to stand up for employees whose voices are rarely heard. I grew up on the south side of Chicago and have worked for the city of Chicago for 28 years total: 7 years with Chicago Housing Authority public safety security division until that unit was disbanded in 1999, and now 21 years with the Department of Aviation. I also worked 18 years with the Village of Robbins police department as a patrol supervisor Sgt. before retiring in 2018. I encourage you to vote for our 73 Rising Slate.
Region 7 – Other Employers in Chicago
For the past 17 years I have worked at Chicago State University as a building service worker. I beactive in my union because I believe that there is dignity in all labor and that our power as workers comes from our strength in numbers. As a member of the Executive Board, I will work hard so that our voices are heard and that our communities and workplaces in Region 7 are well represented. Vote of the 73 Rising slate and keep our union strong!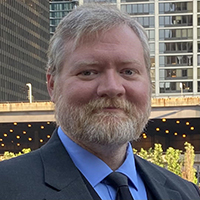 I have been a member of SEIU Local 73 for 12 years serving in Indiana, Higher Education, and throughout the state of Illinois. I have represented Region 7 as an Executive Board member since 2019.
I negotiated the most recent union contracts at UIC and the Jewish Federation which saw significant and substantial improvements in pay, protections, and benefits.
The 73 Rising Slate has really turned our union into what it should have always been and I couldn't be more proud and excited to be working with these amazing members.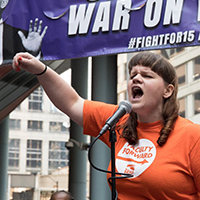 I currently serve as an Instructor of English and as the Part Time Faculty Co-Chair of Faculty Forward LUC, the contingent faculty union at Loyola University Chicago. After teaching multiple part-time gigs at numerous colleges throughout Chicago for over 15 years, I have a full-time position this year thanks in large part to our union, SEIU Local 73.
After an over three-year fight, SEIU 73 and Faculty Forward LUC won our first contract with Loyola University Chicago in 2018. It included a 50 percent raise for the lowest paid faculty in our unit; one-to-two-year contracts for Adjunct faculty; the creation of higher paid Adjunct Instructor positions; and more.
We went on to win our second contract in 2021, bargaining higher wages, better work/life balance, and established a pathway for part-time faculty to hold the full-time, benefitted positions we have earned. I am most proud of what Faculty Forward LUC has managed to do together, for and with one another and Local 73. I would not be where I am today without our union. Be it through my work as Faculty Forward LUC's Co-Chair, the Modern Language Association's Part-Time Contingent Faculty Professional Issues Delegate for the Midwest.
Region 8 – Northern Suburbs
Region 9 – Southern Suburbs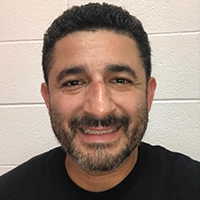 I am pleased to have the chance to run for an important position like the SEIU Local 73 executive board. I have been with SEIU for twenty-one years now and my time with the union has been a knowledgeable experience as I have come to know how important it is to our community of members. I currently hold the chapter president position at Bloom Township High school and I believe together we have made a difference for our unit. If given the chance to serve you on the executive board, I can and will do my best to further my knowledge, represent all members and grow my career alongside SEIU local 73. Thank you for supporting the 73 Rising Slate.
Region 10 – Western Suburbs and Tollway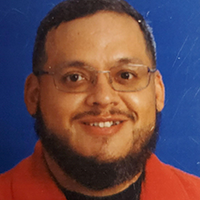 The reason I am running for executive board member is my previous and current experience. I've been an active SEIU Local 73 full dues paying member since 2011. I have been Chief Steward for my unit from 2012-2016 and have remained a Steward up until present time. I also have been elected to two contract negotiation teams. I also was previously elected twice as a board member for SEIU Local 73. I have also been part of SEIU Local 73's political committee and as delegate for SEIU Local 73. The 73 Rising Slate is composed of people who will continue fighting for all Local 73 members. I know we will build on the gains our current administration has made for members in our union. Join us in voting for the 73 Rising slate!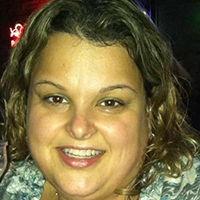 My name is Gina Rocco-Jasinski. I have been a bargaining committee person for Illinois Tollway for the past 6 years and an active steward even before that. I have been a union member for the past 18 years and feel that the current Leadership is stronger than we have had in previous years. I am running for Executive Board on the Local 73 Rising Slate and I believe in the power of a union and will always do my best to represent the members' best interests.
Region 11 – Champaign, Urbana, Decatur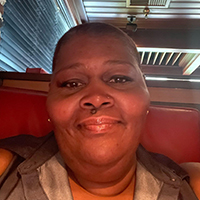 As a union member, the power in collective bargaining has always been clear. We have strength in numbers that have allowed us to negotiate better wages and working conditions for all Local 73 members. As a part of the 73 Rising Slate and the Local 73 Executive Board, I will work to ensure that our union remains strong and continues to secure the gains we have made under our current administration. Working together we can keep Local 73 moving in the right direction. Join me in keeping our union strong by voting for the 73 Rising slate.
Region 12 – Other Downstate Employers
As a bus aide at Quincy Early Childhood, I have been proud to represent downstate workers on the Local 73 Executive Board. As a part of the bargaining team at Quincy, I have seen firsthand the strength of our union and our leaders. Together we have secured strong contracts that result in better wage, benefits, and working conditions for all members. I am proud to be a part of the 73 Rising Slate and kindly ask for your vote and support for our team.
Region 13 – Northwest Indiana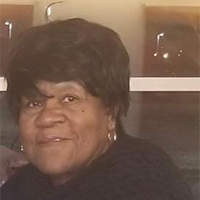 Hello Local 73 members; I am Eula Woods a long time trade unionist. I currently work with Illinois Central bus Company in Northwest Indiana. I have been on the front lines fighting for my fellow union members and our union as well as my community as a steward, bargaining committee member, and an Executive Board Officer with SEIU Local 73. I have seen many changes over the years as employers and politicians seek to weaken our union and our collective power, but I will continue to fight for the workers of Local 73 and for social and economic justice.
I ask for your vote again for Executive Board Member region 13, and that you support the 73 Rising Slate as we continue to move local 73 in a positive direction.
Region 14 – Chicago Crossing Guards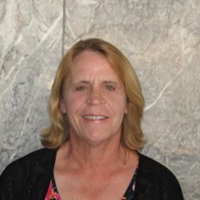 Hello Local 73 membership, I'm Joy Driskill, a 26 years veteran with the now Chicago Public Schools Crossing Guards Unit, as well as a wife, mother and grandmother. I have proudly served and worked through different changes throughout the years with our crossing guards. We have gone from the Chicago Police Department to the Office of Emergency Management (OEMC) to now CPS. I believe in our union and our crossing guards are a proud fighting unit, and it's been my honor to serve as a union steward, bargaining committee member and executive board member for Local 73.
I humbly ask that you continue to support me as I ask for your vote again for Executive Board member region 14, and that you support the 73 Rising slate, as we continue to move Local 73 in the positive course we have set.